Canadian Lumber Tariffs Could Harm U.S. Builders, Buyers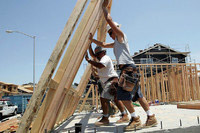 In an opinion article for The Hill, a publication well read by members of Congress, Michel Kelly-Gagnon of the Montreal Economic Institute and Granger MacDonald, NAHB chair, make their case that cutting tariffs on Canadian lumber could lower the price of new homes, create jobs and help stimulate the U.S. economy.
In recent years, duties on Canadian softwood lumber have hit 15 percent, and future tariffs could be 25 percent. On the southern side of the border, this would raise the price of a new home by about $1,000. The National Association of Home Builders (NAHB) estimates such a price hike effectively puts that new home out of reach for about 150,000 families.
If just the 15 percent tariff is renewed this spring, that would result in a loss of more than 4,600 American jobs and $265 million in lost wages and salaries.
The source of these duties and price increases is American lumber producers, who seek to protect their own market share. For more than 30 years, they have accused Canadian producers of taking advantage of the United States market to "dump" low-priced lumber. ...
... The U.S. lumber lobby is pushing for new duties, once again accusing our Canadian neighbors of unfair trade practices. The Commerce Department will issue its preliminary determination April 24, giving us the first look at the new duty rate.