Illuminating Fiber Enters Lighting Ecosystem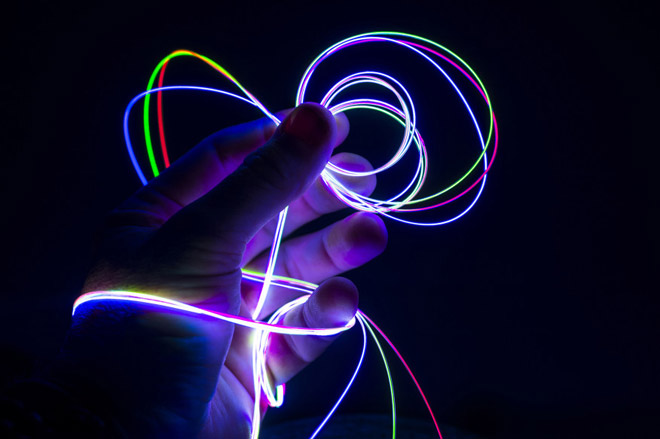 Courtesy Vibrance
When materials science company Corning announced its investment in Silicon Valley–based integrated solutions provider Versalume in June 2016, it was with the express goal of "accelerating the adoption of [the company's] fiber lighting technology." Called Fibrance, Corning's light-diffusing fiber had taken five years to develop. It is made of glass with a polymer cladding, and at only one millimeter thick, is flexible enough to wrap around one's finger and can provide uniform illumination with a single laser attachment up to 10 meters long (approximately 33 feet).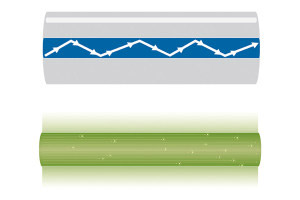 Courtesy Vibrance
Top: Light is refracted and contained within the core of a transmission fiber used in high-speed communications networks. Bottom: By contrast, the nanostructures within Fibrance technology shatter and diffuse light within fiber.
For Versalume CEO Mario Paniccia, who joined the company in July 2016, a glimpse of the technology was all the convincing he needed to take on the lead role at the newly established company. "I spent 20 years of my career keeping light in fiber," Paniccia says. "So I was captivated by the concept [alone]."
Since then, Versalume and Fibrance have been circulating through the design and tech worlds: last September an artist decorated his Burning Man festival bike with the fiber; in October the material was featured at the Mondial de l'Automobile motor show in Paris as 3D laser tail lights; and potentially most significantly, in April, Versalume senior strategist Kerry Keating—and former head coach of Santa Clara University's men's basketball team—spearheaded a trial application of the fiber in which it was embedded into the perimeter of a basketball court. (Sports Illustrated wrote, "It's Keating who envisions a bright future in which Versalume can use Corning Fibrance Light-Diffusing Fiber technology to colorfully light up the perimeter of basketball floors to be synchronized with shot clock and game clock buzzers.")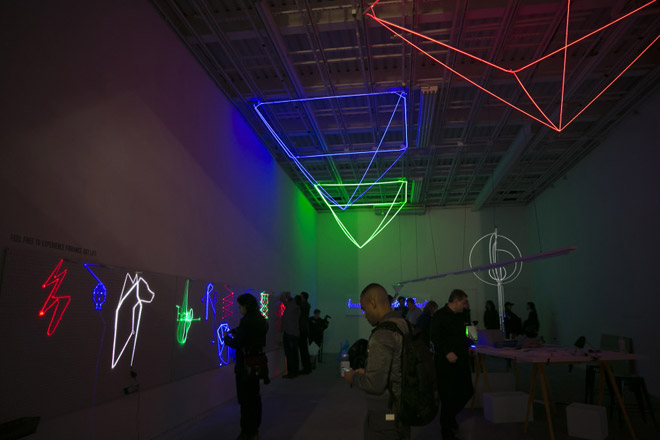 Courtesy Vibrance
LiTT Workshop
Market ready and available for project use, Fibrance requires a laser diode, which can be specified in red (at 20 or 100 mW), green (at 20 or 70 mW), and blue (at 20 or 70 mW) or upgraded to a multi-color laser module powered by a 12V DC power adapter. The material is highly customizable with potential applications in fashion, lighting design, and automotives. But in order for design professionals to start using Fibrance, Paniccia understood that they would first need exposure to it. So in April, Versalume, along with interdisciplinary collaboration consultancy Project61, invited artists, architects, fashion designers, engineers, and interior designers to its first LiTT Workshop (held in New York City) to test and display their Fibrance creations. The results impressed Paniccia. "I was curious to see what people [would come] up with and I was actually surprised," Paniccia says of the final products. "We talk about lasers and fiber [as being] very technical, [but] they view it as just another material."
In addition to touring the official participants' installations, visitors were invited to engage with the materials by weaving the fiber onto pegboards designed by a team from local architecture firm Mapos. As workshop exhibitors, Mapos founders Colin Brice and Caleb Mulvena also designed three seven-foot suspended pyramids made from the fiber. When asked if they would incorporate the material into their work? "Definitely," they tell Architectural Lighting. "It's luminosity maintains itself over the length of the fiber with no perceptible degradation. Its thinness and flexibility made working with it like drawing with a pencil."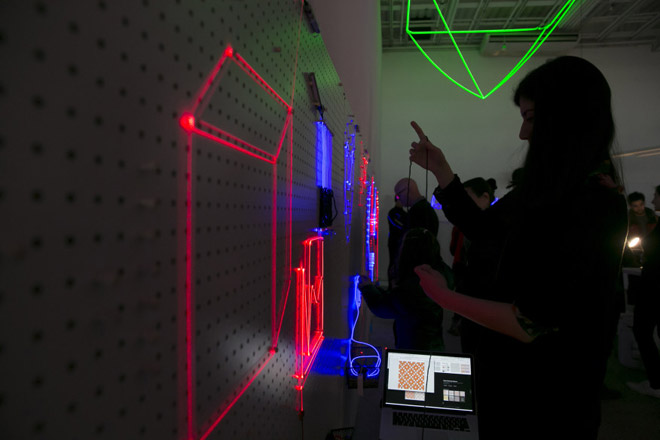 Courtesy Vibrance
Interactive pegboard at LiTT Workshop
Seattle-based architect and fellow LiTT participant Michelle Kang agrees. "It's not in diodes like in an LED fixture, so [the material] does not always need a diffuser/reflector to form that continuous glow," Kang says. "I'm curious about creating temporary structures or emergency shelters with integrated light fabric. I can see that being useful in outdoor expeditions [such as] an avalanche situation."
For Paniccia, design workshops such as this are just the start. While the commercial fiber can be specified for indoor and outdoor applications (from -40 degrees to 149 degrees F), Fibrance must maintain its material integrity at 230 degrees F for vehicle applications, so that will have to wait. And though some of the designers noted that the material does not truly function as a light source but rather as an illumination accent, its applications seem limited only by laser/fiber length restrictions, which Versalume is working to improve. "Good ideas are endless," Paniccia says. "If we can provide the solutions for people to apply [Fibrance], people will innovate and come up with ways to apply it."