Four Marriott Merger Updates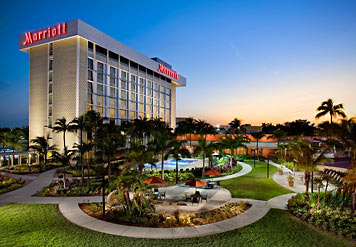 Plans for Sheraton
Now the third-largest brand in Marriott's portfolio, Sheraton suffers from "poor consumer perception" in North America, according to global chief commercial officer Stephanie Linnartz. "With our deep operational expertise coupled with clear accountability around renovation cycles, brand standards audits and quality-assurance delivery, we can significantly improve customer perception of the brand." The company has formed a council of franchisors for feedback around brand positioning, operations and design. Marriott also is reevaluating the brand's service, food and beverage and quality assurance standards.
Sheraton's primary problem has been a poor quality-assurance process and inadequate accountability."--Marriott International's Stephanie Linnartz
Now Sheraton owners have to decide whether to meet new brand standards, shift to a Marriott brand in a lower tier or exit the system. To inspire investment by property owners, Linnartz said, Marriott needs to improve Sheraton's performance. Marriott revived its Fairfield Inn & Suites brand in 2003 and Courtyard Marriott in 2007. Sheraton, though, "is a bit more complicated than the Courtyard because these are, in many cases, hotels that are much bigger, much more complex," CFO Leeny Oberg said. "We would expect that it would take several years."

Legacy Starwood Brands
Global development officer Tony Capuano pointed to The Luxury Collection, Tribute Portfolio, St. Regis, Aloft and Element as Starwood brands with particular development potential. The first two, plus legacy Marriott's Autograph Collection, comprise the company's soft brands for independent hotels. Autograph is expected to reach 180 open hotels by 2019. Capuano said the company sees opportunity to add hotels above and below Autograph's upper-upscale tier via the Luxury Collection and Tribute.
For luxury, St. Regis is underrepresented globally, with only 38 open properties and 22 in the pipeline, Capuano said. "We can see a significant increase in St. Regis signings, in the range of about 10 deals a year." And Linnartz said Marriott is revamping the 10-year-old Aloft brand's guest room design to be more profitable for developers and more user friendly for customers. It's also launching healthy grab-and-go options for Aloft's food and beverage program.
As for Element, Marriott is pivoting the health and well-being lifestyle brand to an extended-stay product. Capuano said the company's success with Residence Inn indicates potential to broaden Element's presence in that space.

Loyalty Integration
Though Marriott Rewards and Starwood Preferred Guest have been linked since the merger, Marriott doesn't expect to complete integration of the platforms until late 2018.
Already, though, borrowing from SPG's Ambassador concept, Marriott Rewards implemented its own Ambassador Service with a personal concierge for members who stay more than 100 nights a year. The SPG platform will launch Marriott Mobile features this year, including mobile check-in and check-out and service requests. And in March, Marriott invested in PlacePass, an online platform connecting members to local activities, Linnartz said.
Marriott anticipates a renegotiation of terms for its branded credit cards, which could increase loyalty program contributions and reduce hotels' card-processing costs. The Marriott Rewards Visa through JPMorgan Chase expires in 2018, while the SPG American Express card expires in 2020.

Global Sales Organization
Linnartz said that after the merger, the sales organization numbered 750 global corporate accounts that have "meaningful overlap." On April 1, the company launched its new global sales organization and redeployed sales associates for those accounts. "This streamlined sales force should position us to increase revenue across group, extended-stay and business travel, and we will be ready for the annual special corporate pricing season, which begins in May," Linnartz said.
Legacy Starwood hotels in North America also have migrated to Marriott's Expedia and Booking.com contract terms, which are more favorable by "200 to 400 basis points," according to Linnartz. The company expects its scale and distribution strength—only about 10 percent of its bookings come from online travel agencies—to help it negotiate even better terms in the future.