Your position:
Home
>
News Home
>
Market
>
53m Latitude Yachts Multihulls Hold Record for World's Largest Trimaran
53m Latitude Yachts Multihulls Hold Record for World's Largest Trimaran
2016-05-20 by:
Latvian yard Latitude Yachts has launched a pair of 53 metre multihulls, which will jointly hold the record for the world's largest trimaran.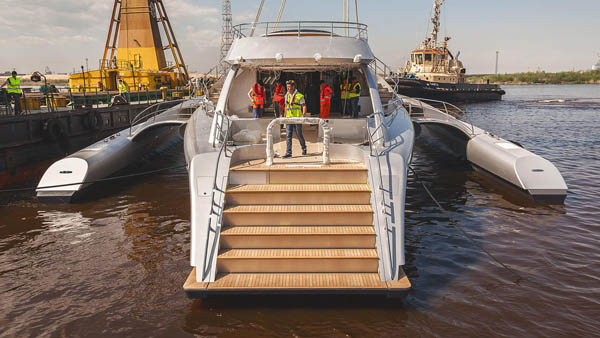 The two new models Galaxy and Galaxy of Happiness hit the water in Riga last week (May 10) and will now undergo sea trials before being delivered to their new owners in the UAE.
The futuristic design and sleek silver exterior by Jean-Jacques Coste, which Latitude Yachts described as "resembling a spacecraft from Hollywood blockbusters", calls to mind other notable trimarans Adastra and round-the-world record holder Ady Gil.
The interior was designed by Latitude Yachts and Jean-Jacques Coste and features an owner's cabin and two guest cabins.
Valdis Irbe, co-owner of Latitude Yachts, said: "This was a great challenge for me and I was brave enough to agree to bring this project to life.
"I would like to thank the customer for giving his credence and opportunity to carry out this project of immense complexity."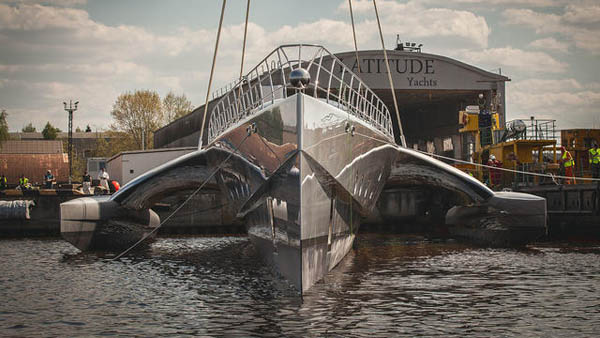 The 53m trimaran project has been under development for nearly 30 months and the dual launch propels Latitude Yachts into the superyacht spotlight, although they do not currently plan to display the trimarans at any upcoming boat shows.
Founded in 2006, the yard was previously best known for building five 60 metre restaurant boats that are based in Moscow.
Built from a GRP and carbonfibre composite, the new Latitude trimarans are propelled by twin 2600hp engines for a top speed in excess of 28 knots.
Latitude Yachts adds that they are expecting an imminent order for a further two 53m trimarans that will also be used in the UAE.
GET THE
XIUGLE DIGEST
Subscribe to Xiugle's FREE email newsletter