Ferretti Group & Fincantieri Collaborating
2017-02-21 by:
  Though only preliminary details are available, two large Italian yacht building companies have signed a partnership. Ferretti Group and Fincantieri will now jointly develop military and civil projects, the latter including yachts.

  The firms announced the agreement at an international defense conference this morning. Fincantieri's roots in the defense industry go back two centuries. It has delivered more than 2,000 vessels, ranging from combat ships to submarines. The recipients are the Italian Navy as well as the navies for other countries. The Ferretti Group, meanwhile, only recently entered the security sector. It established the Ferretti Security and Defense division a little over a year ago. It's supplying patrol boats to the Italian Coast Guard, Navy, and maritime police.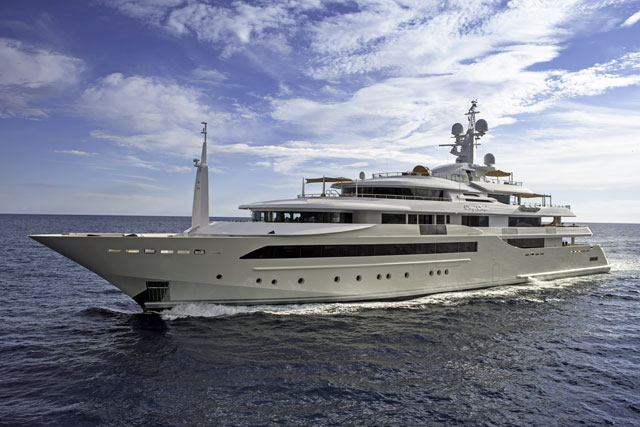 The two companies cite the common ground in defense as a major factor behind the partnership. They plan to work with both national and international clients. However, both companies also believe they can augment each other's yachting efforts. Even with that, neither company mentioned specifics. Therefore, there are no details on which brands within the Ferretti Group will benefit the most—or if any are being prioritized over others.

  It stands to reason, though, that the most immediate collaborations can occur between CRN and Fincantieri's yachting division. Both focus exclusively on megayachts. In fact, both concentrate primarily on 197-foot (60-meter) and larger projects. Fincantieri delivered the 440-foot (134-meter) Serene in 2011 and the 459-foot (140-meter) Ocean Victory (top) in 2014. Just last month, CRN launched Cloud 9, a 243-footer (74-meter). Its largest delivery to date is Chopi Chopi (above), at 262 feet (80 meters). It delivered her in 2013. Furthermore, the Custom Line, Pershing, and Riva brands all have megayacht models.

  For now, all either company will say is that they see significant cooperative efforts ahead. "The collaboration agreement with a global leader such as Fincantieri represents a recognition and confirmation of our strategy both in the recreational yachting industry and in the security and defense sector," comments Alberto Galassi, CEO of Ferretti Group.
GET THE
XIUGLE DIGEST
Subscribe to Xiugle's FREE email newsletter