Riva 100 Corsaro Sets Sail for Asia
2017-02-22 by:
  Here are some of the first peeks at the Riva 100 Corsaro, just as the megayacht makes her long journey to her new home.

  Hull number one of the new series departed the shipyard in Italy on February 16 for Hong Kong. There, come April, Riva clients will get their first chance to step aboard. This is a particularly noteworthy development. The Riva 100 Corsaro is the first ever model from the builder to celebrate a global debut somewhere other than in Europe. Related to this, three more yachts in the series are under construction for Asian owners.

  While it will be some time before the new model premieres in the United States, the management team believes the yacht will appeal to Americans. For instance, a number of customers come from this side of the Atlantic. In addition, the flying bridge aboard the Riva 100 Corsaro suits the cruising lifestyle here. The open space accommodates different configurations for loose furnishings. You can have sun lounges fully aft, along with seating and dining areas. A hardtop provides some shade for you and your guests. And, in traditional fashion, an extra helm is fully forward, with an observation settee just opposite.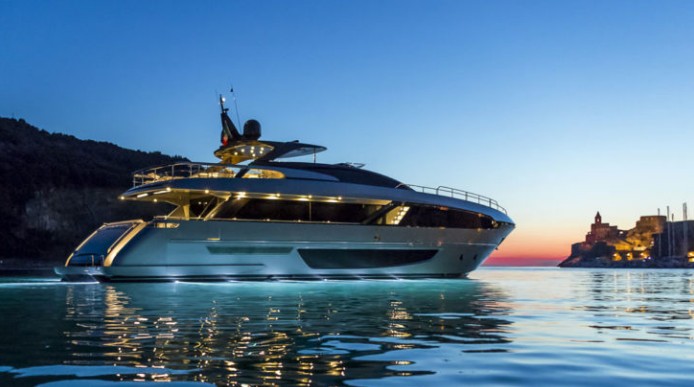 Also in traditional fashion, Riva lets you personalize the yacht's interior. So far no photos are available for the saloon or staterooms of the yacht headed to Hong Kong. Regardless, we do know that there are four staterooms below decks, plus a main-deck master suite. The master is truly full beam, too. Even though the 100 Corsaro has side decks, they rise up and over the owner's cabin. And, a fold-down balcony off the saloon serves as an additional nice spot from which to take in the views.

  The bow seating area is a nice spot for this, too, particularly underway. The Riva 100 Corsaro can reportedly cruise around 24 knots, under MTU power.
GET THE
XIUGLE DIGEST
Subscribe to Xiugle's FREE email newsletter