How hoteliers can best incorporate color trends in 2018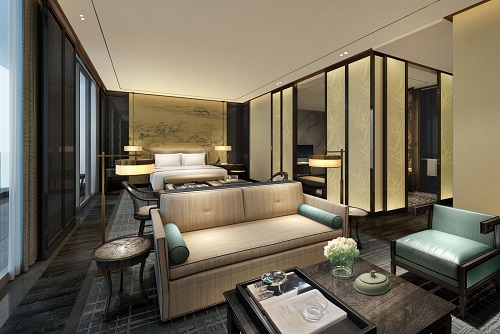 For hotel brands that want to be on the cusp of new design elements and incorporate buzz-worthy details, incorporating trending colors can be one way to achieve that, design experts said.
This year, Sherwin-Williams debuted "Oceanside" with its color forecast, and Pantone Color Institute announced "Ultra Violet" as the trending color.
With vibrant colors such as these, designers said, it's important to not overdo it.
MatchLine Design Group principal Lesley Hughes Wyman said her team was surprised by Pantone's selection of "Ultra Violet," as it's a very specific shade.
But she has been seeing hues of "Oceanside" more frequently. "It's more easily integrated without overwhelming the senses," she said, adding that both colors are very saturated compared to the lighter, airy colors from previous years.
Meg Prendergast, principal at The Gettys Group, also said it will be interesting to see Pantone's violet shade in use, due to its level of intensity.
The colors are fun, vibrant, energetic and youthful, said Nikoletta Stagias, interiors associate at Stonehill Taylor. She added she has seen vibrant colors like these in the hotel industry for a while, particularly in public spaces of "youth-oriented chains such as Aloft and Moxy."
The shift now would be to incorporate the bold colors in the guestrooms and hallways, which are spaces often associated with more neutral and soothing colors, Stagias said.