Lindsey Adelman Crafts Desert Oasis in NYC Showroom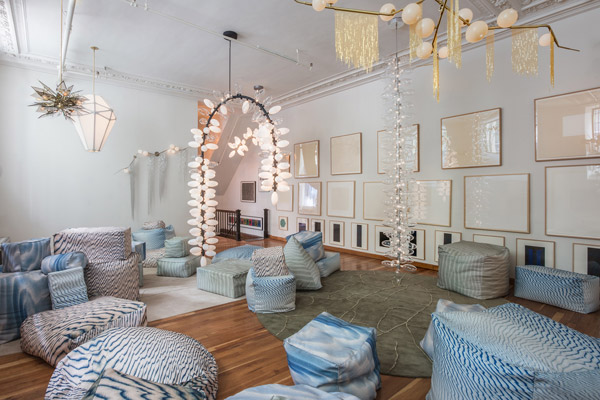 Afterglow, Lindsey Adelman's inaugural group show at her studio's NoHo showroom, showcases fixtures by Mary Wallis and Karl Zahn, along with cushions by Print All Over Me and Project No. 8. Photography by Lauren Coleman.
NYCxDESIGN, New York's annual design week, offers a portrait of the industry at its liveliest. Renowned lighting designer Lindsey Adelman hopes to provide respite from the month-long festivities via her NoHo showroom's inaugural group show, Afterglow. Adelman crafted a serene desert oasis by showcasing brand-new fixtures from her studio's design director Karl Zahn and senior designer Mary Wallis. "I want people to feel like they are in an arid, natural, yet luxurious space," says Adelman, who is also showing at?Egg Collective's "Designing Women" further downtown. Adelman invites visitors to chill out on a landscape of desert twilight–inspired cushions—courtesy of?Print All Over Me and?Project No. 8—until the show closes on May 31.