Your position:
Home
>
News Home
>
Global
>
Airland Group aims for 1,000 Therapedic, Medicoil stores in China
Airland Group aims for 1,000 Therapedic, Medicoil stores in China
 In this country of more than 1.6 billion people, the Airland Group has launched Therapedic as its luxury bedding brand throughout China.
Airland, a major Chinese bedding producer, says it hopes to have 1,000 Therapedic and Medicoil stores in China in the next five years.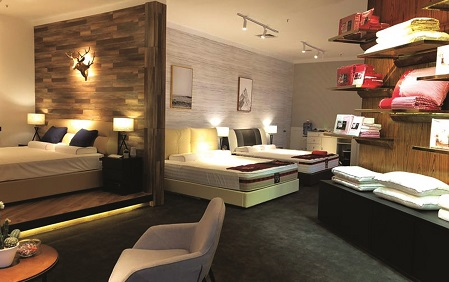 This Airland room setting integrates Therapedic products with DEA fine linens and Griffe crystal, both from Italy

The company used the recent Shenzhen Fair here to launch Therapedic stores in China. Those stores will flank another Therapedic brand, Medicoil, which is already featured as a lifestyle brand in more than 150 stores in China, according to Sze Man Yuen, chairman of Airland.
Airland, China's second largest bedding producer, has grown its business by partnering with U.S. and international brands since 1966, he said.
It was only in 2012 that the company partnered with Therapedic by debuting Medicoil as an independent brand.
"When we met Airland, we had a trademark issue with the Therapedic mark in China, which we have since corrected," said Gerry Borreggine, president and CEO of Therapedic International, who recently visited Airland's corporate offices in China. "Consequently, the company could not launch Therapedic in China.
"Mr. Sze liked what we had to offer in terms of brand, support and collateral materials, and he wanted to join our group," he continued. "Because of the existing problem with the Therapedic mark, he decided to forge ahead by making Medicoil the Therapedic brand in China."
Fast forward five-years and the trademark issue behind them, Airland is now launching the Therapedic brand as its luxury bedding brand, positioning it alongside the existing Medicoil brand, which has concentrated on mainstream price points in China.
"Mr. Sze's patience and foresight has yielded Airland two quality American brands for the price of one," Borreggine observed.
Airland has 150 existing Medicoil stores in China and added 50 Therapedic stores at the recent Shenzhen Fair, according to Limi Sze, director of Airland. "Combined, Medicoil and Therapedic have 200 stores today," she said. "Our goal is to have more than 1,000 in five years."
Airland operates three factories in China, in Shenzhen, Hui Zhou and Hang Zhou. The factories are modern and highly automated. They produce their own coils, both offset and pocketed coils, in-house at each facility, the company noted.
Several of the new Therapedic stores are being launched as "designer concept stores," according to Sze Yu Ao, executive director of Airland.
"We want to create a sophisticated bedroom environment with the Therapedic mattress as the centerpiece," she said. "We are surrounding the mattress with elegant linens from DEA and Griffe crystal, both from Italy. When our customers see the beautiful setting we have presented, we believe it will help them to sell better, luxury mattresses."
The concept seemed to be well-received at the recent Shenzhen Fair, as several of the designer stores were opened, according to general manager Carol Zhang.
The Airland group is a company committed to growing through brand affiliations, Borreggine said.
"We are proud to be associated with them," he said. "They prioritize promotion, they are determined, and they haven't been afraid to invest in their ideas. When you look for partners in the international theatre, it would be hard finding any better than the Sze family in China."
(Source:furnituretoday.com)