Alibaba doubles its presence at CES 2018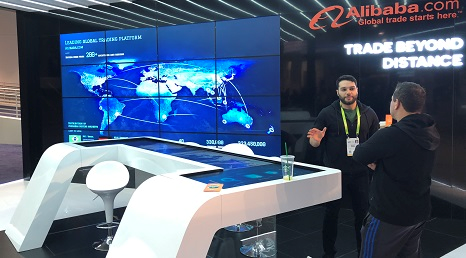 Alibaba doubled its presence at CES 2018, with a booth in the Las Vegas Convention Center and at the Design & Resource Center
Perhaps the e-commerce behemoth we should beware is Alibaba, not Amazon.
Alibaba, the world's biggest Internet retailer as measured by volume, doubled its presence at the Consumer Electronics Show this year to tout its seven online platforms, which include Taobao, AliExpress and Tmall.
According to the representative I talked to at Alibaba's exhibit in the Design & Source Marketplace, a pavilion new to CES this year, Alibaba's B2B platform already connects 125,000 factories, from 190 countries around the world, to buyers.
At CES, he said, "We've been spending most of our time with buyers who are interested in sourcing products globally."
What's the relevance for furniture retailers in the U.S.?
When it announced in 2015 the hiring of Goldman Sachs banker Michael Evans as its president, Alibaba's press release stated that globalization is its primary goal: It wants 10 million businesses and 2 billion consumers worldwide doing business on their platforms.
Within the last six months, Alibaba:

•Began testing drone-based deliveries to hundreds of customers (albeit the deliveries were of 12-oz. tea bags within an hour's flight of its distribution centers).

•Launched its "smile to pay" service with KFC in China in which facial recognition links customers to their payment accounts.

•Signed an agreement with Mexico to help Mexican businesses sell goods in China and train Mexican businesses in e-commerce, digital payments, logistics and analysis.

•Reported $25.3 billion in Singles' Day sales, a 40% increase over the previous year and more than double the $11.62 billion combined total sales for the U.S.' Black Friday and Cyber Monday.

•Opened its first data center in India that will offer large scale computing, storage and big data capabilities to 33 zones that span Asia, Europe and the U.S. Alibaba Cloud already operates two data centers in Silicon Valley.
Already there are lots of sofas, recliners, coffee tables, etc., for sale on Alibaba, much of it sourced in China. Imagine any furniture maker in the world sourcing product anywhere in the world and delivering it quickly anywhere in the world.
Be it furniture or anything else, that's what Alibaba imagines.
(Source:furnituretoday.com)