Amazon sharpens focus on home category
LAKE BUENA VISTA, Fla. — Already ranked among the Top 10 U.S. furniture and bedding retailers, with 2017 sales estimated at $2 billion, Amazon continues to deepen its presence in the home category. In the past year or so, the company has particularly focused on expanding its range of proprietary house brands in furniture, sensing the opportunity it has to leverage the power of its own widely recognized global name.
The e-commerce giant started moving in this direction in November 2017, when it launched its first two private-label furniture brands: Rivet, Mid-Century Modern living room furniture and décor, and Stone & Beam, transitional, modern and higher-priced living room collection. Last month, it launched a third private-label brand, Ravenna Home, classic traditional living room furniture, upholstered headboards, lighting and barstools.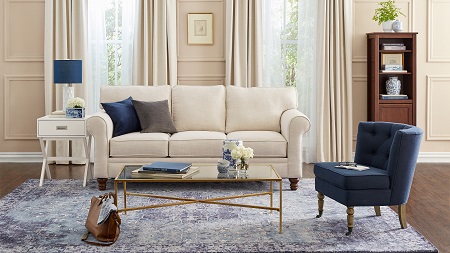 Ravenna Home
The brands feature hundreds of pieces — including lighting, rugs and wall art — as well as free shipping and 30-day free returns. Some products also are eligible for 12-month, no-interest financing if purchased with Amazon's store credit card.
"As a company, we're always listening to customers, learning and innovating on their behalf to bring them products we think they will love," said Ayesha Harper, director of hardlines private brands for Amazon, about the launch.
Customers are increasingly turning to Amazon for their home furnishings needs, and furniture is one of the e-tailer's fastest-growing retail categories, the company added.
Another home category receiving a lot of attention at Amazon is bedding. The company took its first step into house-branded bedding this summer, when it launched a line of bed frames and steel mattress foundations under the AmazonBasics umbrella. To date, Amazon has launched a total of more than 120 private-label brands, with AmazonBasics being one of its broadest offerings.
Soon after that launch, Amazon had even bigger news relating to bedding: its first private-label foam mattress, also marketed as part of the AmazonBasics line. In late October, the e-tailer added a second private-label foam mattress line.
Amazon's entry into the mattress market could add pressure to manufacturers as well as large U.S. mattress retailers like Mattress Firm, Rooms To Go, Mattress Warehouse, Ashley HomeStore and Ikea, industry observers said.
At the same time Amazon is expanding its product offerings in the home furnishings category, the company continues to look for new ways to make the online shopping process easier, testing a new shopping tool called Scout that offers a more curated browsing experience.
The service aims to help customers narrow down their choices on the e-tail giant's site. Scout starts by asking shoppers to like or dislike photos of products using a thumbs-up or thumbs-down system, then uses machine learning to create automated product recommendations based on users' choices. For example, if a consumer is looking for a coffee table and gives a thumbs-up to a rectangular table with a distressed, dark brown top and a thumbs-down to a round glass table, they will be shown a range of wood-toned tables with a shape and finish similar to the one they liked.
"This is a new way to shop, allowing customers to browse millions of items and quickly refine the selection based solely on visual attributes," said Amazon. "It is perfect for shoppers who face two common dilemmas: 'I don't know what I want, but I'll know it when I see it' and 'I know what I want, but I don't know what it's called'."
The move is the latest step in Amazon's effort to move consumers away from the world of traditional search while also collecting more data on their preferences.
Because furniture represents a high-growth area of Amazon's business, the category gets a lot of attention on Amazon's landing page, Wendy Franks, senior manager of vendor relations-furniture, said in a presentation at Furniture/Today's 2017 Leadership Conference. The company often uses the landing page to promote brand launches, collections and trends in the category.
"It's just a great way for us to introduce home furnishings to the Amazon customer," she said, adding that Amazon is very excited about the category's performance. "It's truly still Day One for us, and we're learning so much from the industry."
Customers are increasingly looking online to fulfill their home furnishings needs, and Amazon expects that trend to continue, Franks said. Given the many shoppers Amazon already reaches and the numbers that have yet to purchase a furniture item, "we see a ton of upside there."
During the conference, Franks discussed the recent moves that Amazon has made to offer more curated collections developed in partnership with leading designers and industry influencers, such as Christiane Lemieux of Cloth & Company and Apartment Therapy. In the spring, Amazon expanded its assortment of branded microsites with the launch of a Scott Living storefront, with easy access to Scott Living furniture.
On the delivery side of the business, Amazon has developed fulfillment centers especially equipped to handle furniture, and it also has begun working with furniture-specific carriers "because we understand the importance of a customer getting that product damage-free at their doorstep and being super-happy with the outcome," Franks said.
(Source: Furniture Today)