Your position:
Home
>
News Home
>
Global
>
American household furniture brand Thomasville plans to enter China market
American household furniture brand Thomasville plans to enter China market
Twenty-five International industry leading enterprises signed contracts with China International Import Expo to make conversation with the president of the Asia Pacific region of American household furniture brand Thomasville.
In the afternoon of Apr. 28, China International Import Bureau held the Collective Contract Signing Ceremony & Exhibitors and Purchasers Match-Making Event in National Exhibition and Convention Center (Shanghai). 25 international leading enterprises became a new batch of participation signing units and 47 purchasers participated the match-making conversation for the first time.
Sun Chenghai, the deputy director general of China International Import Bureau and the chairman of National Exhibition and Convention Center (Shanghai) signed the participation contract with the representatives of enterprises on the behalf of the sponsor of the Import Expo. Among this batch of signing enterprises, there are seven world top 500 enterprises, namely Honeywell, FCA, Bosch, HYUNDAI KIA, Unilever, Qualcomm, and FedEx.
Fortunately, JJGLE interviewed Jack Wang, the president of the Asia Pacific region of American household furniture brand Thomasville.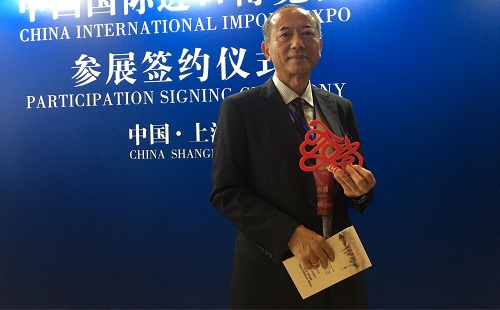 Thomasville is a century-old brand from North Carolina of America, a source place of high-end household furniture. It is affiliated to Heritage Home Group (HHG), a leading high-end household furniture group of America.

    X 

JJGLE: Last year, Thomasville and Red Star Macalline reached strategic cooperation to penetrate the Chinese market. Why you choose Red Star Macalline?
Jack Wang: Before contacting with Red Star Macalline, we have carried out multi-dimension investigations for two to three years such as market investigation, brand positioning, price strategy and operation consultation, and we think the leading position of Red Star Macalline fit our century-old influence and our cooperation will be a win-win situation.
JJGLE: What are the differences between the household furniture market of American and China? If there are products specially designed for Chinese consumers?
Jack Wang: As a household furniture brand with a history of 106 years, Thomasville wants to bring the Chinese market the original household furniture form and style. The demand of Chinese consumers for household furniture products in recent years has become pursuit for a better life from the original having furniture will make them satisfied. I think products of Thomasville, with diversification and modernization orientation and paying attention to leisure sense of household life, can meet the household furniture consumption demands of China. In the coming years, we may invite Chinese designers to join us and add the Chinese elements of Thomasville.
JJGLE: What is the target consumer group of Thomasville?
Jack Wang: We describe the target Chinese consumer group of Thomasville with a hot word of the household furniture industry- Up-middle. Specifically speaking, they have an international background; they once studied abroad, often have a tour abroad and recognize the culture and the mode of life of America. This consumer group has more demands for the comfort level of household life, the richness of colors and the functional property of products. We find that this kind of consumer group in the first-tier, the second-tire and even the third-tier cities is rather enormous. We hope that we can provide them with more diversified household furniture products representing the modern urban lifestyle of America.
JJGLE: What is the largest advantage for Thomasville's penetrating the Chinese market?
Jack Wang: The largest advantage of Thomasville is not only the century-old brand effect, design and technology elements but also the pursuit for quality perfection and high requirements for environmental protection. Especially the environmental protection standard of materials, specifically speaking, the content of formaldehyde can totally reach and even exceed the environmental protection standard of China, which can meet the dual demands of Chinese government and consumers.
It is said that Thomasville will hold many activities, including designer forum, display salon and industry trend on the China International Import Expo in Nov. 2018 and will participate and witness the upgrade again of the life mode of Chinese.
(Source:jiagle.com)