China's Exports Are Homeward Bound
On July 11, Zhuo Peihui learned the profit margins on the wooden furniture he's been selling to the U.S. for 13 years were about to evaporate. That's because the dresser drawers and dining tables made by the more than 100 workers at his factory in the Chinese province of Guangdong had landed on Donald Trump's latest tariff hit list.
Trump is betting that punishing penalties on Chinese industry will force Beijing to end trade practices his administration says are unfair. But China has at least one powerful strategy for limiting the fallout of the levies: getting the nation's 1.4 billion people, especially its swelling ranks of middle-class shoppers, to spend more like Americans.
China furniture exporters sold $29.2 billion in goods to the U.S. last year. The $200 billion round of tariff proposals will have the biggest impact on their industry, according to Deutsche Bank AG. They face levies of 10 percent or even 25 percent. That's spurred Zhuo and other furniture makers to seek sales closer to home. "Although the domestic market is new to us and competition is very fierce, at least the demand is here," he says. "The market is huge, and customers are paying more for good products."
With trade tensions between the U.S. and China seeming to worsen by the day, mainland companies selling everything from handbags to fresh food to Christmas lights are boosting their attempts to cultivate local demand. Take Taizhou Tianhe Aquatic Products Co. From its base in Zhejiang province in eastern China, more than 1,000 workers process 10,000 tons a year of freshwater crayfish, frozen squid, dory fillets, and other seafood for sale to the U.S., Europe, and Australia.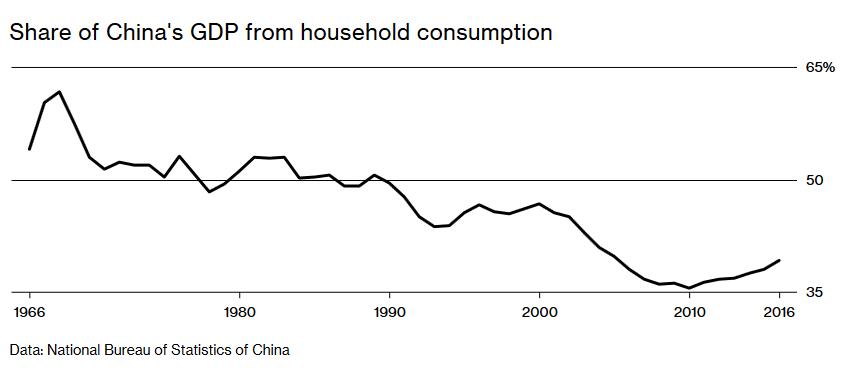 Many of those products are facing new levies in the U.S.; the almost 200-page list of targeted items includes dozens of varieties of seafood, with the penalties due to take effect after public consultations end on Sept. 6. Luckily for Tianhe Aquatic, Chinese millennials are having a crustacean fixation. Demand from urbanites in their 20s and 30s helped the economic value of the crayfish industry climb 83 percent last year even as U.S. exports dropped, according to a June government report.
"Consumers in China care more about the quality of food and consider eating food that is popular in the U.S. and Europe to be fashionable," says sales representative Doris Chen. Tianhe can't keep up with local demand, even though it's charging more and boosting profit margins, she says. "We can drop the U.S. market if we want."
At the more than 3,000 supermarkets run by state-backed China Resources Holdings Co., shoppers have pushed up sales of jumbo Argentine red shrimp 20 percent in the first six months of this year. That's because local demand is rising and Chinese middlemen who imported the shrimp with plans to sell them to the U.S. are selling them to the local grocery chain instead, according to the company.
Even before the escalation of trade tensions, the growing spending power of Chinese consumers was attracting greater interest from local producers who'd traditionally sold their goods overseas. Household consumption accounted for more than 39 percent of China's gross domestic product in 2016 and 2017. That was the highest since 2005. "The trade war will highlight the change," says Iris Pang, an economist with ING Bank NV in Hong Kong.
Chinese shoppers are still vastly underperforming as engines of growth compared with their counterparts in the U.S., where personal consumption accounted for about 70 percent of GDP last year. Addressing that imbalance is an important part of President Xi Jinping's plan to restructure the world's second-biggest economy.
It's not always easy to get mainland customers to mimic America's consumerist habits. SDIC Zhonglu Fruit Juice Co. accounted for about 20 percent of China's 654,000 tons of apple juice concentrate exports last year. Customers include Coca-Cola, Nestlé, and Kraft Heinz, and most of its output is exported to the U.S. and other developed markets. The Trump administration's latest tariff list includes all types of juice.
So SDIC Zhonglu is trying to win over Chinese parents, who traditionally haven't given the drink to kids. "We are studying and launching new products to create more juice demand among Chinese consumers," the company said in a statement. "The China-U.S. trade war is speeding up our shift in market structure and product structure."
Another big challenge for mainland manufacturers: Many Chinese associate local brands with poor quality. But businesses that have traditionally sold their wares to the U.S. have an advantage, says Fielding Chen, China economist for Bloomberg. "If you can export to the U.S., that means your quality is good," he says. "This will be very good for them in developing the domestic market."
Zhuo, the furniture maker, says he hopes that's the case. While he already sells domestically through an online storefront and is building a physical store, local sales account for only 20 percent of his business so far. "This market gives hope and opportunity for manufacturers to gain big profits." 
(Source: bloomberg.com)