China's design footprint evolves with a new Beijing showcase
Beijing has long been a city famed for its rapid-fire urban growth – and its design scene is no exception with a quarter of a million (and counting) architecture and design studios operating across the sprawling megalopolis. So it's perhaps no surprise that the city is the setting for a major new creative event: Design China Beijing. A sister event to the popular Design Shanghai, it opens to the public for four days from 22 September (just ahead of Beijing Design Week), and will showcase 80 design brands and galleries in the 1950s-built China National Agricultural Exhibition Center.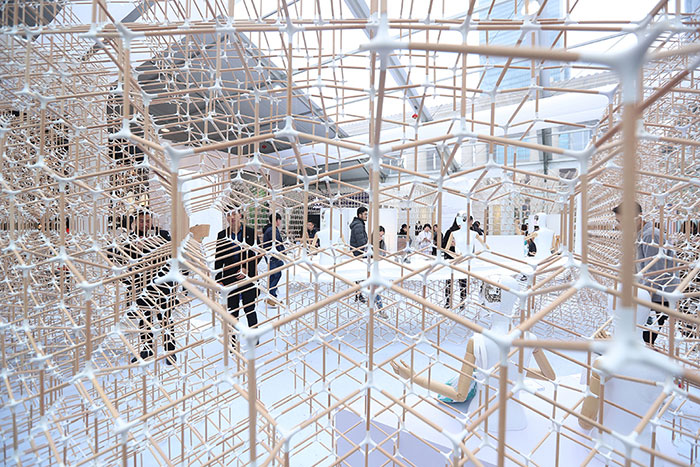 From a dozen new carpet concepts by Hong Kong's House of Tai Ping to handcrafted crystal chandeliers by Italy's Mechini, the event – curated into the three categories 'contemporary', 'classic and luxury' and 'collectible' – casts a spotlight on both local and global design talents.
'Design China Beijing is the first truly international design trade event in Beijing,' explains event director Zhuo Tan of Media 10. 'Although Beijing Design Week has been established for nearly ten years, there is no high-end design trade fair established successfully in Beijing.' She adds, 'there are more than 250,000 registered international and local architect and interior design firms based in Beijing. Design China Beijing will provide a global platform where all those designers can source products for their projects locally and allow top design brands to meet them and establish business relationship.' Here we highlight exhibitors to look out for...
Ikasas
Kanto collection, by Iksas
Japanese designer Akiyuki Sasaki often finds himself sitting in a plane somewhere between his native Tokyo, and China – a country whose culture is a key source of inspiration for his contemporary furniture brand Ikasas. Sasaki, who launched Ikasas three years ago, cites his creative ethos as 'complexity in brevity', with contemporary pieces balancing zen aesthetics and craftsmanship with a light eco footprint. Here, he showcases quietly functional and clean-lined household products – from round wooden 'Kanto' stools with rainbow-hued metal legs to the soft, elongated lines of the 'Suippo' table.
Ruyi
Light fan, by Rooy
True to its name – which means, among other things, 'as tomorrow' – Ruyi embodies a new generation of Chinese design. An elegant, contemporary take on traditional Chinese culture, the Shanghai-based homeware brand was launched in Milan three years ago by Yuan Yuan, an award-winning designer and artist. Screens using traditional materials to form graphic, modern motifs feature regularly in her work. In Beijing, look out for 'Light Fan', one particularly striking screen made up of a dozens of moon-like white paper fans neatly aligned in a light wood frame.
House of Tai Ping Carpets
Fracture, by Fernando Mastrangelo
Edward Fields from the Hong Kong-based carpet makers House of Tai Ping has forged a creative union with Fernando Mastrangelo, the Brooklyn artist renowned for his sculptures, furniture and large-scale wall works. While Mastrangelo has worked with an eclectic array of materials – from coffee to cement – this reportedly marks his first foray into the world of fibres. The result is showcased in Beijing, in the form of 12 new carpet concepts that fuse the artist's abstract aesthetics with high quality carpet craftsmanship.
Frank Chou Design Studio
Frank Chou-
A series of iconic furniture pieces – including the 'Fan' chair, 'Stack' table and 'Combo' sofa – will be showcased by Frank Chou at Design China Beijing in a space inspired by a traditional hutong teahouse. Local buildings materials – including grey bricks and antique tiles – provide an atmospheric backdrop for bold-lined contemporary furniture.
'Cloud Bone' 
Cloud Bone by Junjie Zhang
JunJie Zhang showcases a series of seemingly weightless cloud-like structures made from bamboo. The designer first digitally emulated the 3D movement of a floating cloud before recreating these forms in lightweight sculptural structures, handcrafted with thin strips of bamboo.
Mini Living Cabin at House Vision 2018 Beijing
Mini Urban Living Cabin, Los Angeles
Elsewhere in the city, don't miss the Mini Living Urban Cabin at House Vision 2018 Beijing – the fourth in a global series of micro-apartment concepts for contemporary living created by Mini Living (following London, New York and LA - pictured). The new Beijing cabin, created in collaboration with Chinese architect Dayong Sun, is a contemporary (and compact) take on the city's historic hutong culture spanning just 15 sq m, complete with flexible private sections and a mirror-clad community space filled playfully with swings.
(Source: wallpaper.com)