Furniture China 2018 sees international, domestic growth
SHANGHAI – Furniture China 2018 reported a 9.82% increase in attendance this year over last, attracting 166,479 visitors, according to the organizers of Furniture China and Maison Shanghai. International attendance grew to 21,218 this year, an increase of 23.87% over 2017, bringing international attendance to fully 13% of the fairs' attendance.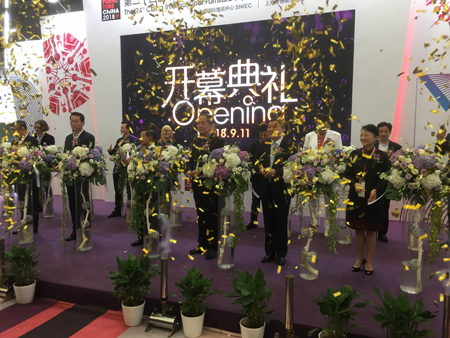 Furniture China 2018 opening ceremonies started with a flair
According to organizers, the fairs drew two primary audiences: "traders," which include retailers, wholesalers, importers and other commercial purchasing entities; and "designers," which encompasses independent designers, design companies, architects and graphic/urban designers. Approximately 30% of attendees are classified as traders, with designers representing the largest contingent at 48.54%.
"The expo contains various categories of products and designs, as well as different kinds of buyers. I think it's the marketplace with a great potential," said Maria Yee, founder of the eponymous home furnishings company.
This year's the Home Plus exhibition celebrated its fifth year. Themed "Infinity," the exhibition featured 12 showrooms designed to highlight unique new product and design strategies for interior living spaces through "crossover designer works."
Furniture China 2018 also featured educational and informational events and exhibitions designed to address the needs of specific industry sub-segments. These included a World Furniture Forum aimed at fostering discussion of the Chinese furniture industry and its relationship to the global market and an International Alliance of Furniture Publications forum, which included presentations from leading furniture publications from around the globe.
The IAFP, of which Furniture Today is a founding member, offered insights on the changing face of the global furniture industry and highlighted the common challenges that retailers and manufacturers today face, no matter the market in which they compete.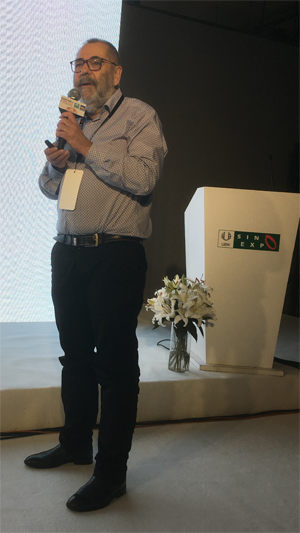 IAFP member Max Merkel, editor in chief of Germany's Möbelmarkt shares insights on the German furniture market
The Design of Designers exhibit this year featured the work of young designers, many of whom tackled traditional furniture challenges in new and unique ways and demonstrated the evolution of China's design vision.
As in the U.S., the importance of interior design and the role of interior designers saw increased interest and attention at Furniture China, with the Maison Business School offering education on the latest ideas in interior design and a DOD Forum presenting several educational discussions around subjects such as New Opportunities for Interior Design and Internet 3.0.
Another curated exhibition area - encompassing four subjects, eight showrooms and two forums - centered on the theme of Decoding Colors, an effort to address emerging colorways and demonstrate the role of color in both furniture and interior design.
(Source: FurnitureToday)