Your position:
Home
>
News Home
>
China Focus
>
House remodeling, furniture designs: China's aging population a new gold mine for state economy
House remodeling, furniture designs: China's aging population a new gold mine for state economy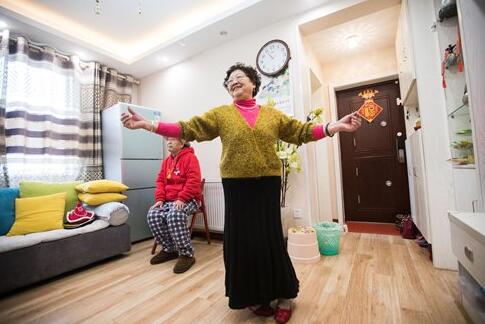 A 77-year-old lady dances during her livestream at her home in Wuhan, Central China's Hubei Province on February 15. IoT (Internet of Things) technology enables her children to supervise her remotely. 
"A lot of old people don't dare to take airplanes, so we chartered a train," Zhou Jincan told the Global Times, adding that "the trains have been converted into sleeper trains and have special medical personnel."


As a manager of the Shaanxi China Travel Service Company, based in Xi'an, Northwest China's Shaanxi Province, Zhou has been busy accepting customers after the Spring Festival, after a series of travel packages were introduced specifically for elderly travellers.


"Tourism elderly-care has become a trend among the elderly in recent years, since those people have a lot of time and money after retirement. For example, we have packages to the warmer southern cities in winter and to the cooler northeastern cities in summer," Zhou explained.


This is just one example of how the growing population of elderly people in China is opening up new possibilities for many businesses.


A report jointly released by Peking Union Medical College and the Chinese Aging Well Association shows  the population above 80 in China will soar rapidly from 2025 to 2050.


Another report released by chyxx.com, an online platform that provides industrial information in China, predicts the population of elderly people will reach 300 million in 2025, adding China will be the country with the biggest potential in the so-called "silver industry," as consumption by elderly people in China will hit 106 trillion yuan ($15.5 trillion) in 2050 compared to 4 trillion yuan in 2014.


The report also shows that more than 96 percent of elderly Chinese prefer to live at home instead of nursing homes.


Living comfortably

Anxin Pension, a Beijing-based construction engineering firm, has profited through essential services for the elderly. The company provides elderly people a safer living environment by remodeling their houses, as falling can be catastrophic for them. 


"Handrails have been installed in the corners and the floors are non-slippery now, which really works," an old lady surnamed Liu, who lives in central Beijing, said she never slipped after her apartment was remodeled by staff from Anxin Pension.


The company's remodeling work involves physical condition evaluation, inhouse planning, construction and follow-up services.


Kong Yue, head of the team, said that for his elderly clients, remodeling serves as a precautionary measure. For older people who are physically inconvenienced or who need to be cared for, a professional remodeling can greatly improve the quality of their daily activities, according to the Beijing Evening News.


Over the past two years, the young team, known as "Anxin Filial Piety Angel Service Team" has carried out remodeling for their elderly clients in more than 1,800 houses in Beijing.


According to the civil affairs administration of Beijing, the city launched an elderly-approachable remodeling project for financially challenged families in 2016, and a total of 4,682 houses and apartments had been remodeled by the end of 2017. The project will be incorporated into the social welfare system in the near future.


Booming demand

Manufacturers are also racking their brains to develop a variety of products targeting senior citizens.


One example is a cushion with a hydraulic rod inside it that helps old people get up from chairs more easily. The cushion can support as much as 136 kilograms in weight.


Another is a wheelchair that can be mounted with a baby carriage that allows old people to go outside with a baby, since many Chinese parents choose to take care of their grandchildren.


Elderly people can also do their shopping more easily thanks to a scooter with a wide footboard with a large basket installed in the front.
All these fun and practical products are available online, as online shopping has also become fashionable among elderly people.


"My father ordered a set of fishing rods of various lengths and materials from Taobao, and my mother kept showing me the clothes she bought online for the entire family," Zhang Xi, a Beijing citizen, told the Global Times, adding her 80-year-old grandpa asked her to teach him how to order a watch online.


"Basically, they browse online shopping platforms every day and receive packages every two or three days," said Zhang.


A report by Tmall, China's e-commerce giant Alibaba's subsidiary platform, said there was an increase of 160 percent in transaction volumes from Chinese elderly compared with three years ago.