IKEA Holds the 1st Shanghai Science Festival
Click Purchase the furniture based on the panorama with the finger/ Scan the material object to find the same kind on IKEA/ take the phone of your household furniture to find out the compatible virtual furniture of IKEA.
This year is the 20th anniversary when IKEA has been in China. IKEA holds the 1st Science Festival in the West Bund Art Center. Michael Laursen from the headquarters in Sweden also moved his office to Shanghai.
IKEA (China) Business Solution Center, a department newly built last year, is mainly designed for supporting the multi-channel retail digital operation by virtue of the technological means.
This year's exhibition displays a new type of technology of IKEA: 360 Panorama. This kind of image is similar to the panorama for which the Microblog users are familiar. The contents are the prototype rooms of IKEA and several key sets of furniture are decorated with small green dots. By clicking the small dots, users can directly view the details of the furniture and add the furniture in the shopping cart.
In addition, a type of kitchen design and quotation tool has been designed. Several kitchen cabinets like blocks on a piece of scanning board. The virtual kitchen will be directly displayed on the screen by identifying the identification at the bottom of the module with the AR technology. This product supports individual design of kitchen according to the individual demands of clients. Clients can click the screen to adjust the material, color and style of the furniture and can obtain the real-time predicted price.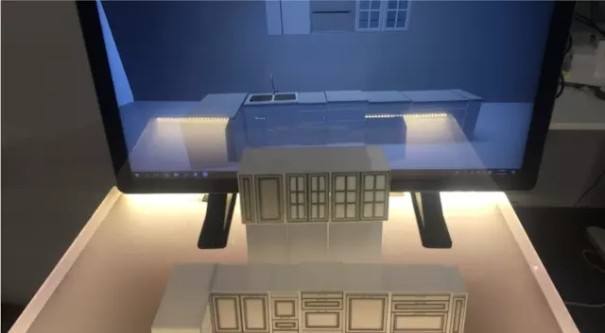 In addition, an impressive new product is the newly launched brand-new AR application - IKEA Place.
Assuming that the client wants to add a new chair at his home, the client can stand in his home, open the camera of the application, scan the position where he wants to place the chair and choose the single item of IKEA online. Each chosen to single item will be displayed on the mobile phone with the 3D effect and match the surrounding environment. The client can adjust the size, color and material of the product by clicking the screen.
(Source:jiagle.com)