Kingsdown opens 100th branded store in China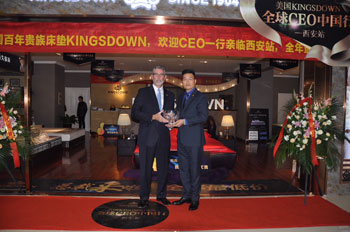 Top 15 bedding manufacturer Kingsdown recently marked a significant milestone in its continuing expansion in Asia with the opening of its 100th branded store in China, officials said.

The new store, in Shijiazhuang, China, is part of Kingsdown's ongoing licensing partnership with Asian-based bedding producer and retailer Roth Bedding Technology International Limited.

The new 2,260-square-foot store, located in the capital and largest city of North China's Hebei Province, puts Kingsdown on track to have a minimum of 135 stores open in China by the end of this year and solidifies the company's strategy to have 500 branded stores open throughout China by 2020.
Currently, Kingsdown branded stores are located in 58 cities, the company said.

Roth and Kingsdown joined forces in 2015. Since then, the partnership has increased the number of Kingsdown branded stores throughout China, capitalizing on the country's appetite for the American brand's luxurious style and handcrafted workmanship, officials said.
"Our business in China remains strong and continues to flourish, and we couldn't be happier to hit this important milestone," said Frank Hood, president and CEO of Kingsdown. "Our ongoing strategic partnership with Roth has been instrumental in the growth and success of the Kingsdown brand in China. The members of the Roth team are experts in the market and their leadership and direction have been invaluable."
(Source: furnituretoday.com)