Your position:
Home
>
News Home
>
Economy
>
Rents in Beijing Cost 5000 RMB/ Month, Main Force of 90's Generation
Rents in Beijing Cost 5000 RMB/ Month, Main Force of 90's Generation
"My rented house recently has expired. I saw lots of houses in the market and I feel that the rents are generally rising. The monthly rent for a two-bedroom house is more than 7,000 yuan, or in a relatively inconvenient area. Even if I lived The monthly rent of the house has also risen nearly 1,000 yuan." 
a Chinese tenant said.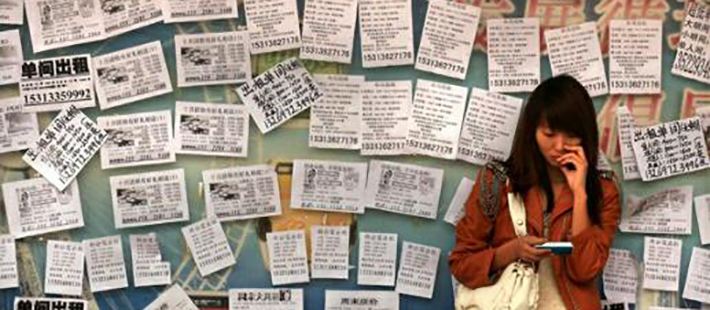 A Chinese Girl is looking for the rents information 
According to relevant data, in July 2018, in Beijing's general rent transactions, the proportion of post-70 customers, post-80 customers, post-90 customers and other age groups was 23.3%, 38.7%, 27.9%, 10.1%.

The month-on-month rise and fall were 3.7%, 1.2%, -4.2%, and -0.7%, respectively.

The largest proportion is still 80's generation, followed by 90's generation.
From the data of the first seven months of this year, the proportion of the post-90s is gradually expanding as a whole. The 90's generation

, it is gradually replacing 80's and becoming the market leader.
The post-90s group presents a variety of characteristics in the rental market:
First, they are diversified, they turn to be more active in thinking, and have high requirements for service quality, and have broad requirements for service content.
Second, they are highly mobile. The current gap between first- and second-tier cities is shrinking, and many 90's come from the north of China. They prefer to rent a house. If a Chinese buy a house or start a business, he will be more willing to go back to

 

his 

hometown or second- and third-tier cities. Therefore, the leasing of the first-tier cities will be more active, and the second-tier cities may be more active.