Your position:
Home
>
News Home
>
Global
>
Sharing Market in Sharing Office? WeWork Launched Its New Retail Concept WeMRKT
Sharing Market in Sharing Office? WeWork Launched Its New Retail Concept WeMRKT
The co-working space giant announced last Monday the launch of WeMRKT, a "modern retail space" that will be piloted at WeWork 205 Hudson in New York City. WeMRKT will sell products from 10 WeWork member companies, who secured their shelf spots in a pitch competition in April, as well as company-branded apparel, office supplies, and other snacks and drinks.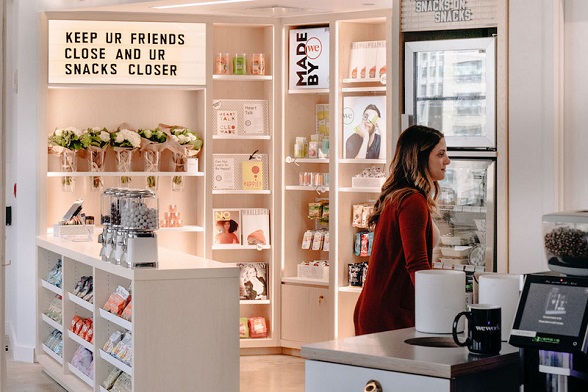 Winning companies include WeWork member startups selling everything from soups to plantain chips, juice made from imperfect fruit to portable chargers. Many of them are direct-to-consumer online companies that will now have the opportunity to sell in a brick-and-mortar environment with little overhead cost.
WeMRKT, which originally started as a concept called Honesty Market, is the brainchild of former SoulCycle cofounder and current chief brand officer of WeWork, Julie Rice. Rice, who joined the company last November, said in a statement that WeMRKT was "by our members for our members."
"As brick-and-mortar retail is disappearing, our WeMRKTs will offer our members an entirely unique channel of distribution," she said.
WeWork will be expanding more WeMRKTs across other locations in New York and nationally soon after, according to the press release. The winning companies will also have the chance to further sell their goods through WeWork's partnership with snack delivery service company SnackNation.
WeWork spended $850 million buying Taylor Fifth Avenue flagship store on Fifth Avenue in New York from the Canadian department store group in October last year, using 150,000 square feet of space for shopping, leaving nearly 500,000 transformed into WeWork's New York headquarters.
WeWork, the originator to the concept of co-working space, WeWork has opened 216 sharing offices in 50 cities in 17 countries and regions around the world.
Read more:
Chinese WeWork rival said to seek fresh funding to expand
(Source: Forbes & Jigle.com)