Young & Design sponsored by GDAMILANO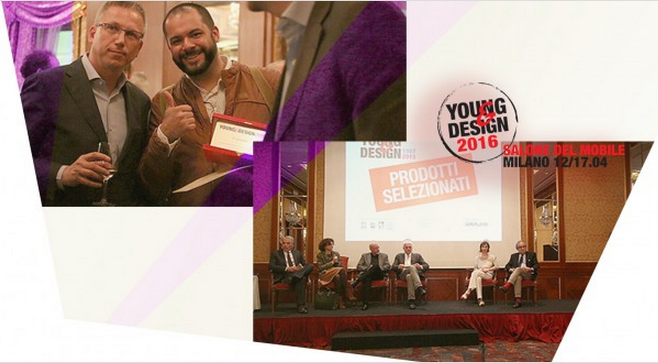 Since 1987, the competition has rewar­ded designers under 35 years old during the Salone del Mobile. Milano for the selection of products made by Italian companies exhibiting at the fair, or at Fuorisalone.

It is a truly historic award that has always enhanced visibility before professional designers, and also represents a springboard for international emerging talent.

The 29th edition boasted a typically high-profile jury, comprising designers who previously won the award and are important personalities in the field of design: Monica Graffeo; Matteo Ragni; Sandro Meneghello; and Marco Pao­lel­li. The president was, as always, the president of ADI, Luciano Galimberti.
Last, but not least, was an outsider who is not a professional designer, but a designer nonetheless – Michelin-starred chef Davide Oldani, who designed several objects now in production, and who brought his knowledge of kitchens and restaurants to the selection of the winners. His contribution was very important, considering that 2016 was the year of the biennial EuroCucina fair.
Since 2014, architect Armando Bruno, MD of Studio Marco Piva, has taken the reins of the competition and co-ordinated its organisation.

The competition is a key event for young designers who offer strong projects that are suitable for the production process. The sponsors are four important companies that produce furniture accessories and components – Tabu, Ternoscorrevoli, igus and Ostermann.
(Source:iafpalliance.com,  Author: Fiorella Baserga)