After Steve Wynn's resignation, what's next for Wynn Resorts?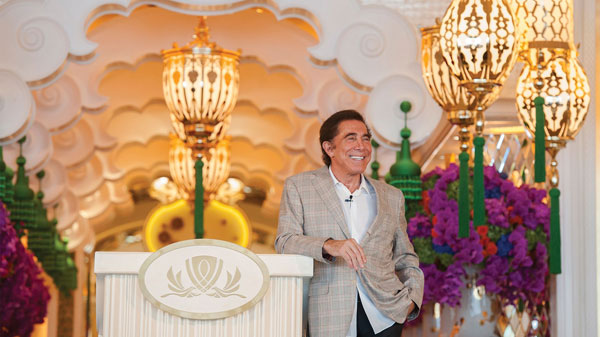 Steve Wynn at the opening of the Wynn Palace in Macau in August 2016.
University of Nevada-Las Vegas assistant professor Todd Uglow was having dinner at Sinatra, a restaurant inside the Encore Las Vegas, just over a month ago when staff suddenly started scurrying as if preparing for some unexpected guest.
Within minutes, Wynn Resorts chairman and CEO Steve Wynn strode into the restaurant alongside former Fox News host Bill O'Reilly, who was ousted from the network last April amid news of various settlements for sexual harassment claims against him.
They couldn't have known it then, but Wynn would also soon be embroiled in sexual misconduct claims that would result in his departure from the company he founded and controlled.
On Feb. 6, Wynn Resorts announced Steve Wynn's resignation as chairman and CEO following a Wall Street Journal investigation that alleged a pattern of sexual harassment or assault by the casino magnate targeting female employees, including one case that ended in a $7.5 million settlement.
"In the last couple of weeks, I have found myself the focus of an avalanche of negative publicity," Wynn wrote in a statement. "As I have reflected upon the environment this has created -- one in which a rush to judgment takes precedence over everything else, including the facts -- I have reached the conclusion I cannot continue to be effective in my current roles."
Wynn Resorts named president Matthew Maddox as its CEO. A relative unknown outside of Las Vegas, Maddox joined the company in 2002 and gradually worked his way up the ranks, becoming CFO in 2008 and president in 2013.
The resignation marks a major setback for a company that appears to have recently thrived. The company's net income tripled last year, to $747.2 million, as the impact of the recovery of business at the Wynn Macau and the August 2016 opening of Macau's Wynn Palace more than offset slightly lagging business at Wynn's Las Vegas properties.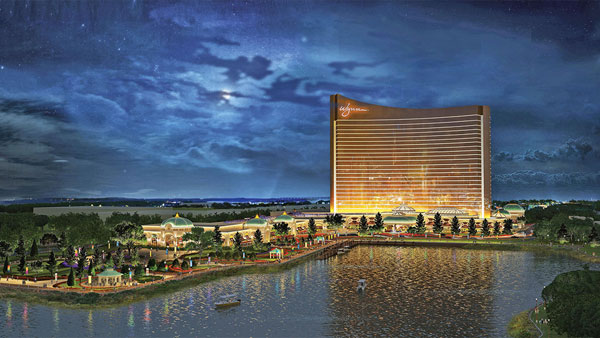 The Wynn Boston Harbor is slated to open in 2019.
And while RevPAR at Wynn's two Las Vegas hotels rose just 2% last year, room rates were up 4.8%, outpacing the 3% increase along the Las Vegas Strip, according to the Las Vegas Convention & Visitors Authority.
"From a fundamental perspective, its Macau operations are humming, its Las Vegas operations should see steady growth, and its development pipeline is very defined," wrote J.P. Morgan analyst Joseph Greff in a Feb. 7 note to clients.
The resignation of Wynn, who owns about 12% of the company, throws uncertainty into what had been a path toward substantial growth for the next few years, however. Plans are already in the works for a 1,500-room hotel as part of the Paradise Park project, which will transform the former Wynn Golf Club into a 26-acre lake with a sandy beachfront, and late last year Wynn agreed to buy the Strip site that formerly housed the New Frontier hotel-casino.
Last month, the company announced plans for a fourth hotel for that site, tentatively dubbed Wynn West, totaling as many as 3,000 rooms. And in 2019, Wynn Resorts is slated to open the Wynn Boston Harbor, a hotel-casino with 600-plus guestrooms.
The Massachusetts Gaming Commission said last week it would continue its review of the allegations and how they might affect Wynn Resorts' Massachusetts casino license, the Boston Globe reported.
"Despite Steve Wynn's resignation from the company, Wynn Resorts is not out of the woods," wrote Barclays analyst Felicia Hendrix in a Feb. 7 note to clients. "The regulatory and board investigations continue, and many questions remain regarding the future of this company without Steve Wynn at the helm and the outcome of suitability investigations in Vegas and Massachusetts."
Last week, a Wynn representative said that Paradise Park and Wynn Boston Harbor were both under construction and moving forward, but that the company was still "considering its options" for the new parcel of land on the west side of Las Vegas Boulevard.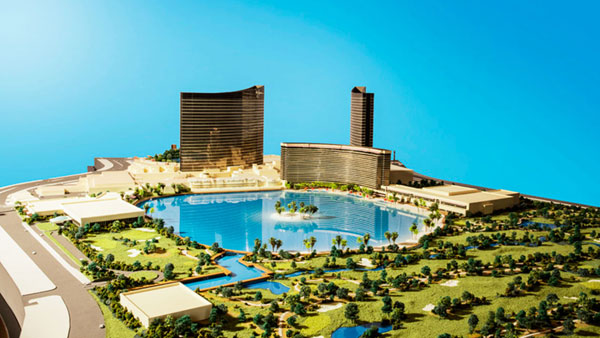 Wynn Paradise Park will include a 26-acre lake with a beach, and a 1,500-room hotel.
"People invest in Wynn Resorts because they're investing in him just as much," said Uglow, who teaches at the University of Nevada-Las Vegas' William F. Harrah College of Hospitality. "He has demonstrated success over many years. With him being gone, there's a real question about what's going to happen."
Steve Wynn has had an outsize influence on Las Vegas, starting with his redevelopment of the Golden Nugget in downtown Las Vegas during the early 1970s. The Mirage, which he opened in 1989, is generally heralded as a game changer on the Strip that launched the modern era of megaresorts, while the Bellagio, which he opened in 1998, set a new standard of luxury in Las Vegas. Wynn sold Mirage Resorts to what was then MGM Grand in 2000, and he opened the Wynn Las Vegas five years later.
One of the challenges for the company going forward will be negotiating how it distances itself from Wynn without sacrificing the cachet of the brand he's built.
Wynn's signature serves as the company logo, and his influence on the resorts is both mythologized and keenly felt.
"I think there's a possibility that the Wynn signature may end up coming off the building," said Uglow. "I think there's going to still be pressure for things like that to happen so this publicly traded company can distance itself."
In the near term, the professor expects Wynn Resorts to adopt a business-as-usual strategy, with longtime executives carrying the founder's vision forward even as that founder steps back.
"I absolutely believe they can endure," Uglow said. "So long as they stay true to the brand and the vision that Steve Wynn had, they're going to be fine."
3

/5
More »
Recommended Products
Hot Products
Hot Suppliers
Other Products
X