Crack team of ICU nurses tackle novel coronavirus outbreak head-on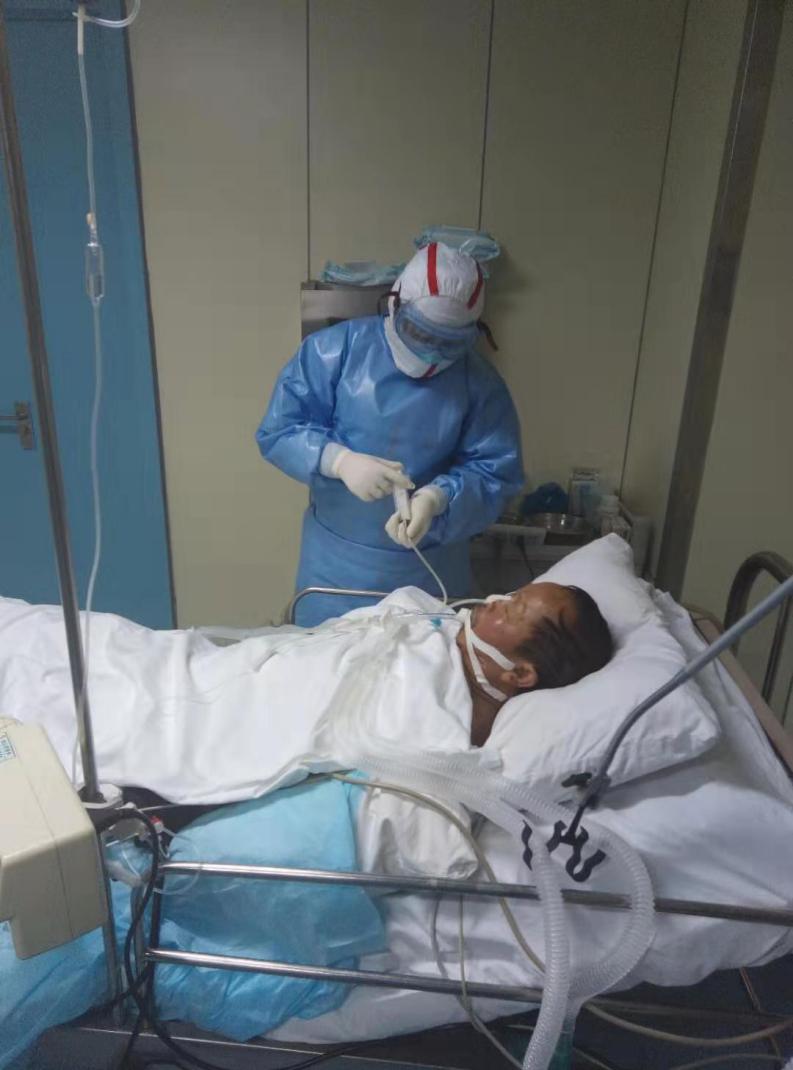 Fu Yingjie works in the negative-pressure wards. [Photo provided to chinadaily.com.cn]
As the most experienced intensive care team, the ICU nurses of Loudi Central Hospital in Central China's Hunan province have always become the best candidates for the most dangerous tasks.
No matter in the face of child patients infected with severe hand, foot and mouth disease, severe H7N9 patients, or novel coronavirus pneumonia patients, they always fight on the front line.
When Fu Yingjie received the call from Xie Yu, director of the ICU on Jan 29, knowing that she might need to support the infection department, she realized there must be patients in quite serious condition.
She immediately arrived at the negative-pressure wards where air goes in but not out to prevent cross infection and the possibility of spreading the virus.
"I had been prepared for a tough battle," the 38-year-old nurse said. "However, when I actually saw the patient, I felt a little nervous and worried."
Thanks to tacit cooperation, Fu and her colleagues gave the patient good medical care in spite of some emergency circumstances.
Thirty-eight procedures and disinfecting hands 14 times are absolutely strictly adhered to fora medical worker to put on and take off a protective suit.
Nurse Liu Dong can finish the whole procedure, which initially took him half an hour, within 15 minutes, after only three days' practice.
Liu Dong is covered in sweat after spending hours in the protective suit. [Photo provided to chinadaily.com.cn]
Liu joined the team immediately when the hospital received the first severe NCP patient.
"As a male nurse, I am stronger than others, so I should step forward," he said. "We will do our utmost to help the patients in need."
Once he puts on disposable protective clothing, he will try his best to work for six to even 10 hours.
He drinks little water to avoid visiting the bathroom and every time he takes off the protective suit, he is sweating all over.
When nurse Li Jian first met the severe patient on Jan 29, she was a little worried.
"I was not afraid of being infected, but of not having enough experience to deal with what could happen in the coming hours," she said. "The patient's serious physical situation presented a great challenge in the following nursing work."
Because of the critical condition, the patient had more secretions, including sputum and feces.
For an entire night, Li dealt with sputum suction nine times and feces five times.
"In spite of the serious situation, the patient was conscious," she said. "Therefore, I told him to believe everything will be better and not to be nervous when I dealt with his sputum."
"In my spare time after work, I always read messages in the WeChat group where experts and experienced doctors discuss the patients'illness. It greatly helped me extend my mind in clinic work and I learned lots of new knowledge," Li said.
Zhou Mojun contributed to the story.
Li Jian (left) poses for a photo with her colleagues. [Photo provided to chinadaily.com.cn]
3

/5
More »
Recommended Products
Hot Products
Hot Suppliers
Other Products