New Eclipse at Half Moon Taking Reservations, Set to Open March 1, 2020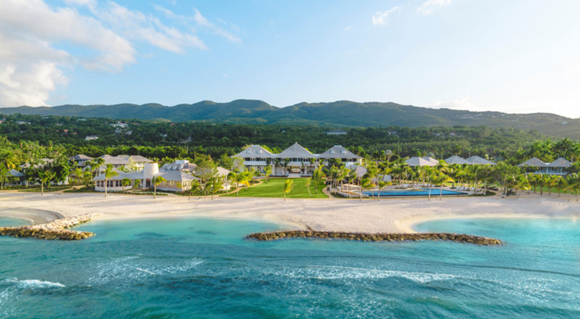 website
Half Moon, announced that they will open the highly anticipated Eclipse at Half Moon, offering a new luxury resort experience on March 1, 2020. The addition of Eclipse at Half Moon creates a triumvirate of accommodation options under the Half Moon brand, which has already been voted as Jamaica's finest resort. Guests can now also enjoy two other distinct resort choices: Founders Cove at Half Moon and Rose Hall Villas at Half Moon, which are located at opposite ends of the 400-acre property.
Eclipse at Half Moon will feature 57 luxurious and spacious accommodations, two restaurants, three bars, a market café, Fern Tree – a Salamander Spa, a sweeping infinity-edge swimming pool, and private beachfront with a natural swimming cove. The resort will begin accepting reservations on December 15, 2019.
"Eclipse is a true, distinct luxury experience, and one that honors Half Moon's legacy and character," says Guy Steuart, III, chairman of Half Moon. "Guests will discover traditional, elegant architecture amid an abundance of beach and grounds on which to roam – all of which appeals to our loyal guests and the next generation of traveler."
Half Moon is just 10 minutes from Montego Bay's Sangster International Airport, and for decades has served as a chosen retreat for royalty, presidents and celebrities. The property was founded 65 years ago, and three of the original founding families still remain as owners. Supported by the spirit and optimism of dedicated Jamaican professionals, Half Moon is renowned for providing sincere and authentic service excellence.
"Eclipse is a remarkable addition to Half Moon and the Caribbean's luxury landscape," says Sheila Johnson, founder and CEO of Salamander Hotels & Resorts, which manages Half Moon. "It takes vision and foresight to create such a notable experience, and Eclipse will undoubtedly become one of 2020's most sought-after retreats."
The additional two existing resort experiences found at Half Moon are distinctly different, yet characteristically Jamaican: Founders Cove incorporates the iconic sections of Half Moon that were developed by the original owners of the property. Guests can stay at a combination of classic cottages centered around Sunset Beach, including the popular Hibiscus and Ocean Court neighborhoods. The area also features multiple dining options, including the renowned Cedar Bar. Rose Hall Villas offers 28 villas, available as 5-, 6- and 7-bedroom accommodations, and are perfect for families, groups and golfers, with each featuring a living and dining room, outdoor living space and private pool. Each villa comes with a butler, housekeeper and a cook, while guests have a separate check-in experience.
Source:website-travelworldnews
3

/5
More »
Recommended Products
Hot Products
Hot Suppliers
Other Products