Puerto Rico hotel executives say things are looking up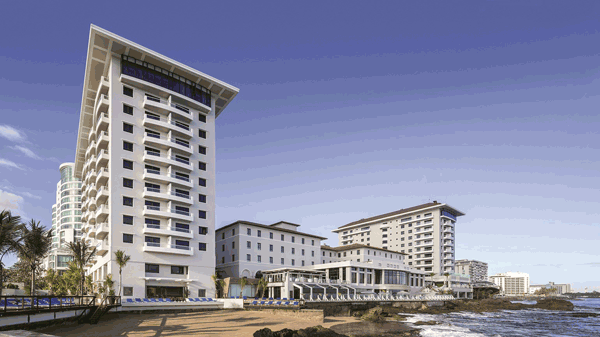 NEW YORK -- For the eight properties comprising the portfolio of International Hospitality Enterprises (IHE), the adversity following Hurricane Maria's devastation last fall presented unexpected opportunities amid Puerto Rico's recovery.
Representatives from the San Juan-based hotel management company were here to offer updates on how their properties have fared in the wake of Maria as well as to discuss the state of tourism in Puerto Rico's capital and recovery in general.
Overall the message was that IHE's properties are up and running, and that for the most part they have been continually open in the months since Maria made landfall in Puerto Rico on Sept. 20.
IHE president Jose "Peco" Suarez said that the properties' supply chain was essentially back within 90 days of the storm. Ben Tutt, general manager of the Condado Vanderbilt, agreed, adding that other than occasional glitches with the property's farm-to-table offerings -- "Every now and then I can't get the right tomatoes" -- things are back to normal.
Those hotels that suffered structural damage immediately got to work on repairs and other improvements.
Jose Padin, of the 260-room Courtyard by Marriott Isla Verde Beach Resort, said that after the hurricane, the property decided to perform a complete renovation of its public areas and rooms. Its restaurants and pool and beach areas are fully operational, Padin said, and 30 rooms at a time are undergoing renovation, which will include new carpeting and furniture. All rooms are expected to be completed sometime in fall.
La Concha, a Renaissance Resort has been back to normal for the past four months or so, said Suarez. Unrelated to hurricane damage, the property's 248-room main tower is undergoing a $9 million renovation to be completed this year.
Henry Neumann, general manager of the Best Western Plus Condado Palm Inn & Suites, said the property didn't suffer any major damage, although post-hurricane upgrades were made to the front desk area and pool and breakfast areas.
The Condado Vanderbilt, which IHE positions as its ultraluxury offering, has been at 95% occupancy since the hurricane, according to Tutt, and nearly 70% of those are leisure bookings, on par with other years.
As the island's situation improves, bookings for consultants, engineering firms and others involved in recovery efforts are tapering off, said Peter Hopgood, IHE's vice president of sales and marketing. "As the business from the recovery phase is leaving, we see some of that leisure coming back, and that's why we're optimistic," he said.
The Hotel el Convento in Old San Juan sustained minimal damage and has been "basically back on track since last month," said general manager Alfredo Arroyo.
Suarez, who also serves on the board of directors of the Puerto Rico Destination Marketing Organization, added that Old San Juan "in the last 45 days came back strong" and the Condado neighborhood "was pretty normal about a month after the hurricane."
"The main attractions, for the most part, are open," Suarez said, noting that El Yunque National Forest is partially open and that they continue to clear more paths and roads. "Some of the more adventurous attractions like ziplining are not fully operational; obviously there's a safety component to these attractions."?
Airlift, too, is on the mend. Domestic carriers are back, said Hopgood, adding that JetBlue aims to be back to pre-hurricane service levels by summer. He said that although European and Canadian airlines pulled out en masse after the storm, Iberia is returning next month with five weekly flights from Madrid, an increase over pre-Maria levels.
Just over a half-year into recovery, the IHE execs emphasized the island's eagerness to lure back visitors.
Yodil Caban, general manager of the Doubletree by Hilton San Juan at Gallery Plaza, said, "From the tour operator to the bell service to housekeeping, they're just so full of passion to provide a great experience and to welcome anyone who visits."
3

/5
More »
Recommended Products
Hot Products
Hot Suppliers
Other Products