Retired QE2 opens as floating hotel in Dubai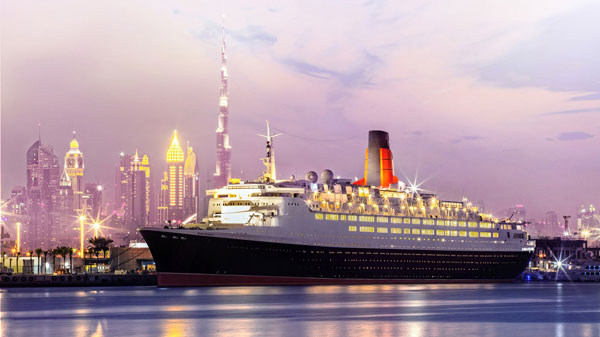 Retired luxury ocean liner Queen Elizabeth 2 on Wednesday celebrated its soft opening as a floating hotel in Dubai.
At 963 feet long and 13 decks high, the QE2 has rooms ranging from 183-square-foot cabin-style standard rooms to its two 818-square-foot Royal Suites, which have private verandas and dining rooms.
The hotel, which is owned by Dubai's PCFC Hotels, combines period-piece 1960s-era furniture and memorabilia with modern amenities, while the lobby has a museum commemorating the ship's history.
Docked at Dubai's Mina Rashid, the hotel has 13 restaurants, five of which will open this week. Guests can seek out an English pub experience at the Golden Lion, while the ship's Yacht Club serves afternoon tea. The QE2's Queens Grill feature re-creations of 1969-era dishes.
Dedicated in 1967, the QE2 made its maiden voyage as Cunard's flagship in 1969. The ship carried about 2.5 million passengers on its 1,400 voyages, including more than 800 transatlantic crossings, before being retired in 2008.
The QE2's soft opening will be marked by the Dubai arrival of Cunard's Queen Mary 2, whose guests will be among the first VIP guests aboard the QE2.
The QE2's official grand opening will be in October.
3

/5
More »
Recommended Products
Hot Products
Hot Suppliers
Other Products
X