About HOTELEX Shanghai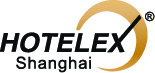 HOTELEX is a series of leading hospitality equipment, supplies and fine food trade fairs in China, held in 4 marjor cities each year.
HOTELEX Shanghai covers the entire hospitality and catering value chain including Catering Equipment Supply, Tableware, Food and Beverage, Bakery & Ice Cream, Coffee & Tea, Wine & Spirits, etc.
As the most international event of its kind in China with more than 28 years' history, HOTELEX Shanghai attracts some 2,557 exhibitors, 159,267 visitors and 5,502 overseas buyers , creating an excellent platform for sourcing, procurement and industry exchange.
HOTELEX Shanghai also host around 30 world-renowned special events, ranging from barista championships, cooking competitions, baking competitions, uniform shows and table art competitions to bring together an unparalleled experience for industry professionals and beyond.
About JDGLE.com
JDGLE.com is a vertical B2B online trading platform serving the Hotel Supplies and Fine Food industries. Combining the five HOTELEX exhibitions taking place in Shanghai, Beijing, Chengdu, Qingdao and Guangzhou with JDGLE.com's year-round operation, we create business opportunities for suppliers and buyers across the Hospitality and Catering value chains. Click here to visit the JDGLE.com portal.
JDGLE.com is part of the JIAGLE.com, which also owns a series of online trading and information portals, including JJGLE.com (Furniture), FMCGLE.com (Upholstery Machinery), DDGLE.com (Commercial Properties & Facilities), XIUGLE.com (Boat & Leisure), QJGLE.com (Cleaning) and DENGGLE.com (Lighting), providing business opportunities across different sectors.