Al Lusail Bids Goodbye to Lürssen
2017-08-23 by: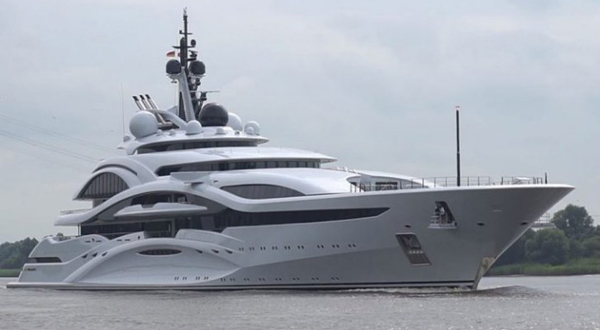 About 10 months after she launched, Al Lusail departed Lürssen for her maiden voyage.

  When she came into view last October, still known as Project Jupiter, she sent yacht-watchers into orbit. Her length, just over 403 feet (123 meters), was certainly one reason. So, too, her styling commanded attention. Lürssen terms it "sporty and aggressive." Penned by H2 Yacht Design, Al Lusail has an abundance of curves flowing from fore to aft and from topsides down. They're akin to signature elements for the design studio, since some of its other works are similar, namely Maryah and the concept project Mars. (In fact, the megayacht bears more resemblance to Mars.)

  The curvaceous styling might be all we'll ever see. Al Lusail flies the Qatari flag, and Middle Eastern owners keep details about interior design and accommodations under tight wraps. However, several months ago, Lürssen received permission to reveal limited information. For example, the yacht has a central atrium that welcomes sunlight to filter down to the base. The decor is modern, and eclectic. The company March & White translated the owner's wishes, further applying "highly innovative" custom finishes, according to the yacht builder. Nautical touches appear throughout the megayacht, too. Altogether, inside and outside, Al Lusail "will stun the Hollywood crowd," Lürssen says.
GET THE
XIUGLE DIGEST
Subscribe to Xiugle's FREE email newsletter