Amara, From Oceanco and Sam Sorgiovanni
2017-03-02 by: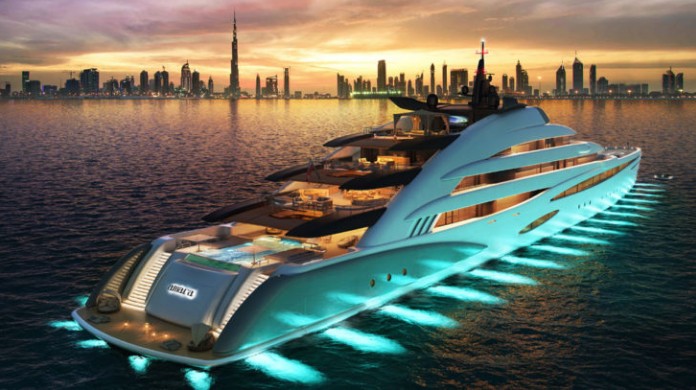 This is Amara, the newest design concept catering to significant-size superyacht parties. The 394-foot (120-meter) is being shown by Oceanco at this week's Dubai International Boat Show. While she is still a concept, she could very well become a reality.

  We say that for two primary reasons. First, the shipyard specializes in projects of Amara's size. Specifically, Oceanco builds up to 459 feet (140 meters). Second, the shipyard's in-house engineering team solicits proposals from a variety of designers purposely to show clients what's possible.

  In the case of Amara, Sam Sorgiovanni Designs penned the striking styling and interior design. Sam Sorgiovanni strove for "a very strong and muscular form" that would have enduring appeal.

  The relaxation areas, for up to 20 guests, should have equally enduring appeal, too. Sorgiovanni wants Amara to lend a resort-like feel. Interested buyers can, of course, customize the decor and layout. However, Sorgiovanni suggests several features that few buyers would eschew. For example, there's a beach club with three folding terraces, for a more open look and feel. Meanwhile, just forward of here, Amara can have a spa-like area. It contains not just one, but two saunas/baths. A hammam (Turkish bath) and banya (Russian bath) can both accompany a beauty room, in fact.

  To celebrate special occasions, the main deck becomes the party space. Fold-down balconies encourage guests to flow back and forth from the saloon. So, too, does a bar out on the aft deck, further in proximity to a swimming pool. Sorgiovanni recommends a variety of natural-looking woods, textural carpeting, fine stonework, and more for the backdrop.

  Amara places a priority on other forms of entertainment as well. On the lower deck, near the spa, 16 people can watch their favorite flicks in the private cinema. An alfresco cinema sits on the upper deck, too—which you can get a good look at in the video below. Should the owners want a special dinner with a number of friends and family, their upper-deck "apartment" comes into play. The aft deck here has dining for 20 people or more.

  In addition, if smaller-scale receptions are on order, Amara can handle those without issue. The bridge deck contains two cozier rooms fashioned in what's called a majilis style. Majilis is an Arabic term used to describe a parlor.
GET THE
XIUGLE DIGEST
Subscribe to Xiugle's FREE email newsletter