Amer 110 Unique Makes History
2017-08-14 by: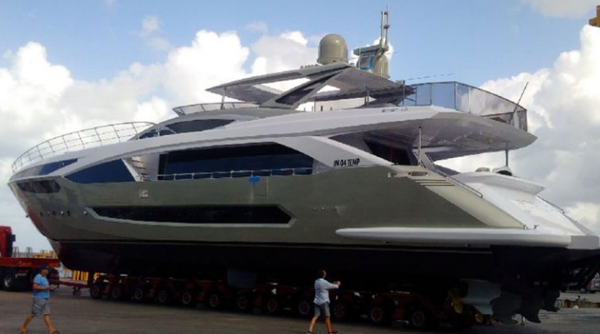 Permare Group, the parent company of the Amer Yachts brand, has two big reasons to celebrate this month. First, it launched the fully custom Amer 110 Unique within the past few days. Second, this same yacht is the world's first pleasure craft in her size range to feature quadruple Volvo Penta IPS units.
  The Italian yacht builder constructed the Amer 110 Unique for a repeat client. This is his biggest boat to date. He's also a loyal customer, having owned two previous Amer Yachts builds over the course of the past six years. (See "1st Amer 110 Inked by Amer Yachts" for more.) The flying-bridge style of Amer Yachts' projects clearly suits his tastes.
  So, too, does consistency in yacht interiors. The shipyard says that the owner wanted the look and feel of the new yacht to be identical to the design of his two previous deliveries. (No photos or renderings are available, unfortunately. But, if you're heading to the Cannes Yachting Festival, you can get onboard and see for yourself.)
  The quadruple 1,200-hp Volvo Penta IPS configuration stands apart as well. The arrangement may come as a surprise. However, Volvo Penta manufactured them specifically for large-yacht applications, including megayachts. They occupy a much smaller footprint than traditional diesels do. They also consume much less fuel, close to 30 percent. So, even with four units in the engine room, the Amer 110 Unique can still devote a good deal of space to guest relaxation areas. In addition, the megayacht should make good turns of speed. Amer Yachts will be conducting sea trials in the coming days to confirm the expected maximum speed close to 29 knots. And, with a draft of about 6'6" (2 meters), she'll gain access to plenty of shallow waters.
  Something else noteworthy about this yacht is the antifouling paint. Amer Yachts says it used one commonly applied on naval ships. It also says that the paint needs changing every four to five years, instead of yearly.
GET THE
XIUGLE DIGEST
Subscribe to Xiugle's FREE email newsletter