Editor's Note: Northern Europe Leads the Way
2019-07-09 by: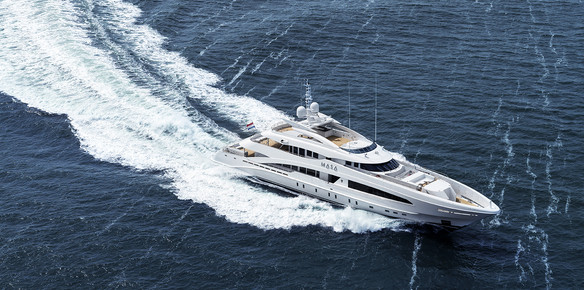 It's been another busy week in the Northern Hemisphere. With the Superyachts.com media team on the coast of Barcelona working on exciting video and photography projects, back in the London office, the editorial team has been working hard to keep you up to date with the latest industry news.

  News began to roll in at the end of last week, with the shipyards, once again, showing no signs of slowing down. An all-star team celebrated the keel laying of a new Nobiskrug project, 62m 794. An eagerly anticipated collaboration between Nobiskrug, Imperial and Espen ?ino, we're looking forward to further updates on this exciting build.

  Another northern shipyard, Heesen Yachts was also celebrating this week. They announced the official delivery of 50m Project Aster just a few months after her launch. Now named Masa, we wish her owners a wonderful summer season of cruising on board their new creation. We also spoke to Heesen Yachts this week about their latest green initiatives of which there are plenty! You can read all about the yard's efforts in writer, Anna Solomon's latest article.

  But the success of the northern shipyards didn't stop there. In our lead story this week, writer George Bains reported on the delivery of 90 metre motor yacht DreAMBoat from Netherlands-based Oceanco. Heralding the first time that designers Espen ?ino and Terence Disdale have joined forces on a project, the owner was presented with a result that we very much look forward to seeing on the seas this summer.

  In other news, it was across the pond in the USA where news came of the sale of renowned brokerage and global giant Fraser Yachts. Sold by Azimut-Benetti Group to MarineMax after 15 years, writer Jenna Medhi spoke with Raphael Sauleau, CEO of Fraser Yachts, to find out more.

  Elsewhere, in our concept focus this week, we spoke to the founder of Duelle Yacht Design, Michele Lubrano Lobianco about his 65 metre motor yacht concept Gladius. For Lobianco, who developed his trade working with Francesco Paszkowski, this represents his largest design to date. You can read more here.

  We also had the opportunity to speak with the Captain of 55m charter yacht, Lili. Available for charter with Imperial, we asked 'Where in the world is Lili?' and the answer, I'm sure you will find inspiring if you're thinking of booking your next on the water adventure.

  Last but by no means least, we reported on the successful sale of 40m Mondomarine M/Y Okko. In a brokerage market that is less than active at present, it was wonderful to hear the news of a collaboration between brokers at IYC and Imperial; a successful end to an extremely active week. Have a great weekend and Happy 4th July!
GET THE
XIUGLE DIGEST
Subscribe to Xiugle's FREE email newsletter