Editor's Note: Top 100 & Other Ocean Giants
2019-08-05 by: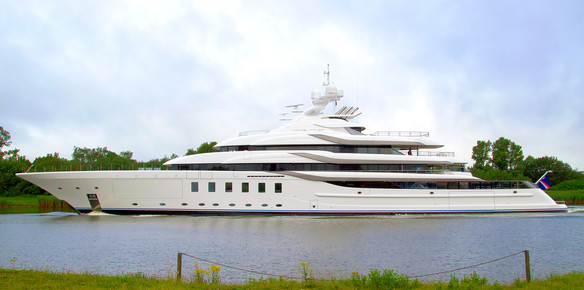 Never in Superyachts.com history has our newsletter been so dominated by the over 86-metre market than it has been this week. From Lurssen's 95-metre delivery M/Y Madsummer to Royal Huisman's Top 100 concept 88m Project Lotus, the Top 100 felt as exciting as ever before, and marks a period of marvelling accomplishment for the industry.

  At a glance, a Top 100 contender from the yards of Lurssen, doesn't come as much of a surprise. The masterminds behind Flying Fox and Tis, Madsummer marks the third Top 100 delivery of the year for the yard. Ranking at an impressive 63rd spot, she signifies a yard well prepared to take on any brief, however demanding. Peter Lurssen shared; "The Owner's brief was demanding, however, we believe our engineering expertise has surpassed his wishes to own a yacht that many years from now will be timeless and yet still ahead of its time".

  Onto equally exciting news, it seemed Florida-based Voyager Maritime Alliance Group made its own stamp to the Top 100 in an unlikely form to say the least. Following a three year conversion from a commercial vessel, the custom 90m M/Y Voyager has becomes the first fully-integrated ocean-going superyacht, boasting some impressive unique innovations. The superyacht previously known as the 'The Big Project' she seems to have earned a starling place as a technologically advanced, cutting edge Top 100 member of today.

  Project Lotus, an 88-metre concept was this week excitingly revealed by Royal Huisman. If built, the project, penned by ThirtyC design studio, will become the largest ever yacht by the shipyard, since the build of Athena in 2004. We look forward to following up on this topic further, and hope to see her sleek, sophisticated silhouette come to life.

  In theme of this week's newsletter, we turned our attention to the Amels giant Aurora Borealis. She may be 67.7m and shy of a place on the Top 100, but nevertheless marks an impressive 2019 delivery for the Dutch shipbuilder. With an iconic Tim Heywood exterior, she encompasses a clean, striking body with plenty to look forward to inside by Winch Design.

  Another giant turning heads this week was the refit of 65-metre Rahil by KRM. This included important work which had previously been abandoned by other shipyards, warranting KRM to declare this as "one of the most important projects we have ever delivered".

  In the final installment of our series on green yachting, we speak to renowned firm Winch Design about the steps that builders and designers can take to make superyachts cleaner and more energy efficient. The design team shed light on how a historically problematic industry is working hard to turn its environmentally unfriendly reputation on its head. Find out more here.

  We finished the week turning our attention towards two destinations with lots to look forward to. First was Barefoot Cay, the celestial Caribbean retreat on the Honduran Island of Rotan, perfect for superyacht travellers looking for stripped back island living for yachts up to 55-metres. Second was Cannes, as we geared up for the yachting festival taking place 10-15th September 2019 inviting 542 exhibitors, 51,000 visitors and boats up to 55-metres in length; perfect for a first time buyer entering the superyacht market.
GET THE
XIUGLE DIGEST
Subscribe to Xiugle's FREE email newsletter