European Shipyards Make Waves
2019-07-08 by: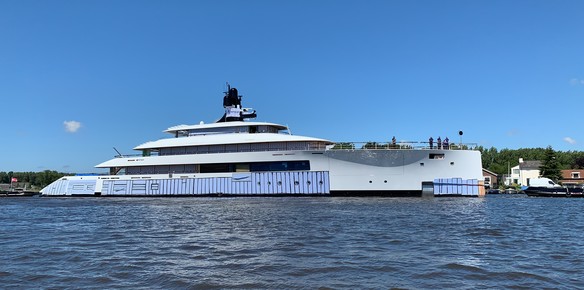 This week news poured in from all over Europe. Things kicked off with the Venice Yacht Show, and the continent's most acclaimed shipyards, designers and brokerages followed suit with revelations about launches, sales construction and concepts…

  The Superyachts.com team returned from the much-anticipated Salone Nautico Venezia at the beginning of the week with resounding accolades of the show's success. Our writer Jenna Mehdi reflects on the event, shining the spotlight on the pedigree of Italian build.

  Sticking around in Venice, the debut that stole the show was the Custom Line 106'. The words Alberto Galassi, CEO of Ferretti Group, sum up the innovative partnership between Ferretti and Italian counterpart Francesco Paszkowski: "We are Italians. We are not perfect, we are sexy."

  Also unveiled this week was Feadship's Project 818. Stepping boldly into the future of yacht building, the Dutch shipyard revealed to the world a monumental 77.25m motor yacht via broadcast - the first time that this has ever been done for such an event.

  Not to be outdone, Benetti also made its way into the spotlight this week with the sale of Project Fenestra, mere weeks after the launch of M/Y Metis. The sale of the 67m reveals an interesting trend, however… Benetti seem to be conquering the US market.

  In fact, Benetti are spanning the continents: the world-leading builder have sold their first megayacht to fly a Chinese flag. The sale of 65m FB270 represents Benetti's continued success in the Asia Pacific area, as well as the area's initiative to become a yachting hotspot.

  Things are also ticking over in the charter world. SuperYachtsMonaco have announced their new Central Agency for Heesen 46m Naseem. The third vessel to come out of Heesen's successful 4700 series in 2008, this classic motor yacht exemplifies the unrivalled pedigree of Dutch yachting.

  Finally, concepts are being announced and embarked upon all over the industry. Tommaso Spadolini has announced the commencement of a brand new 43m steel and aluminium explorer yacht, whilst RODRIGUEZDESIGN have released details of Project Saona, a yacht that represents the emergence of Spain as a new global contender in yachting.

  We at Superyachts.com look forward to reporting on another action-packed week of news, stay tuned!
GET THE
XIUGLE DIGEST
Subscribe to Xiugle's FREE email newsletter