Your position:
Home
>
News Home
>
Leisure
>
Vested interests challenge creation of Irish motorhome site
Vested interests challenge creation of Irish motorhome site
2016-11-03 by:
Ireland's Wild Atlantic Way coastal road up the west side of the country runs for over 1,550 miles but official overnight stopping places for motorhomes are few and far between. One newly created facility, an overnight, 30-place parking bay at the Cobh waterfront, south of Cork in Ireland is already under threat from caravan park owners in the east Cork area. The Cobh-Glanmire Municipal District council created the harbour-side spaces for overnight parking and the disposal of waste water. When it published new bye laws to control the motorhome parking in the town, including at the new facility, local caravan park owners wrote to the council claiming that the local authority's model was illegal and anti-competitive. The park owners are threatening legal action if it isn't closed.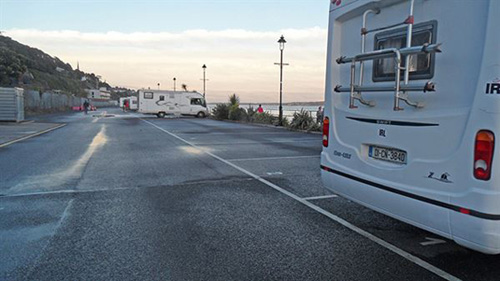 Councillor Claire Cullinane is one of the driving forces trying to attract tourists to the town and commented, "When I saw the submissions, they put the fear of God into me. For example, they said we couldn't use a car park, and that it wasn't right that we weren't providing shower facilities and electricity. But the motorhome owners using the site say they have those facilities in their vehicles."
The municipal authority has referred the correspondence to its legal department in case of a challenge in the courts.
However, the Phoenix Motorhome Club, the leading club for motorhomers in Ireland, which campaigns on parking issues, has weighed in saying that the council should not bow to threats of legal action. Colin McCarthy for the Phoenix Motorhome Club commented, "The provision of an overnight parking space is an entirely different offering to the provision of a camping pitch. Both provide a different product and serve a different segment of the tourist market. It is hoped that Cobh will be the first in a necklace of places where motorhome based tourists can spend a day or so as the tour Ireland's Ancient East or our 2,500km. Wild Atlantic Way, a driving route on which there is currently not one town with an official overnight parking facility compared to Germany's 350km Romantic Road in Bavaria which boasts 19 such places."
GET THE
XIUGLE DIGEST
Subscribe to Xiugle's FREE email newsletter