AEC-Q101 Automotive Grade Optocoupler
Called VOMA617A, it operates at 5mA and has a current transfer ratio between 50% and 600% – which can be specified, within bands, when ordering.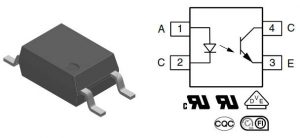 electronicsweekly.com
Operating temperature is across -55 to +110°C.
Maximum collector-emitter potential is 80V, and 3,750Vrms isolation between input and output circuits is provided, along with ≥5mm creepage and clearance distance – even though it comes in a SOP-4 package, which saves 30% on PCB real-estate when compared to a DIP-4 package, emphasised component distributor TTI, which is stocking the device.
On the subject of the package, it is end-stackable at 2.54 mm (0.1inch) spacing.
Device approvals are: UL1577, cUL 1577, DIN EN 60747-5-5 (VDE 0844-5), and CQC GB4943.1-2011.
Inside, there is a GaAlAs infra-red emitting diode, optically coupled to a silicon planar phototransistor detector.
Applications are expected system control within electric vehicles, hybrid electric vehicles, electric bicycles and electric motorbikes – including in battery management, on-board chargers, switch-mode power supplies and 48V board nets.
High reliability industrial applications could be another use, said TTI.
Source:electronicsweekly.com
Hot Products
Hot Suppliers
Other Products