GwaGwa Brightens Japanese Waterfront With Wind-responsive Color Lights
GwaGwa is the creative group of masamichi and kozue shimada. the central ethos of their outdoor installations, hand drawings, and stop motion animations is to use 'creativity to make smiles'. with a variety of skills, the designers were commissioned by smart illumination yokohama to develop 'colors of the windway' along the waterfront of japan.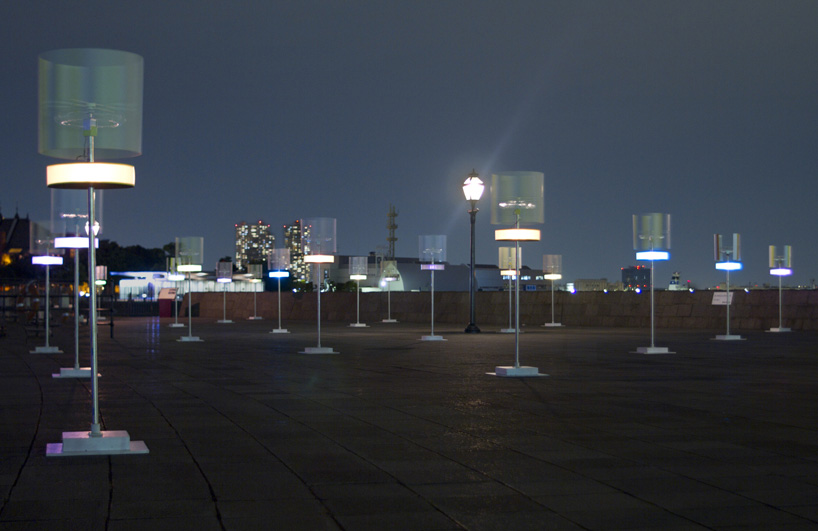 The concept for the installation is to locate the circulation patterns of air throughout the site. thus, a sensor, a wind power generator, an ATMEGA328P micro-controller, and a full-color LED all directed by arduino are utilized to dynamically visualize the paths. 50 devices were allocated in a grid across the breakwater, which runs approximately 100 meters in yokohama bay.
The electricity is spawned by the mortar connected to a gyromill-like construct and charged in the internal NIMH battery during the day. at dusk, the embedded technology detects the breezes and turns on the light, flashing into five colors. the art piece is designed to be self-sustained. from a distance, the entire work is adorned with different hues of illumination where the brightness is fast with strong gusts and fades in and out with subtle motions.
The electric power is generated by the mortar connected to a windmill and charged in the internal battery during the day and the outside blade is for power generation while the inside blade is a sensor.
Source:designboom.com
Hot Products
Hot Suppliers
Other Products