How to Choose the Color of Dresser Mirror Light
In real life, a lot of girls like to look into the mirror, so mirror is a good partner inseparable from life. What is the suitable color of the dresser mirror light? It must match with the overall household atmosphere. In fact, it is very necessary to install the mirror light, because it can illuminate the image in the mirror and make it clearer. It is usually installed at the sides of the mirror to make the face clearer.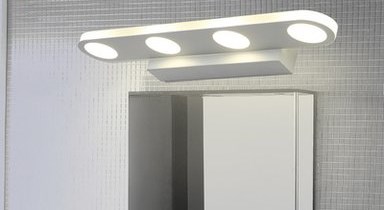 Generally, there are two colors of mirror lights, light-colored cold light and yellow warm light. The former is usually used to match with some simple room decoration, and the latter may be more suitable for some elegant and retro furniture, like European or American style. If the light is put onto the dresser, it is recommended to choose incandescent lamp with higher index, so that it will better meet the need for lighting effect.
After learning about how to choose the color of the dresser mirror light, the overall space limitation shall also be considered. For example, the shape of such light shall not be too complicated, and the light shall be waterproof, so the anti-fog mirror light should be a good choice. Another point worth noting is the quality of the light, as poor quality may contain high safety risks.
Source:denggle.com
Hot Products
Hot Suppliers
Other Products