Light Sculpture For a Church By Florian Brillet + David Letellier
In 2006, a fire destroyed the architecture of the saint-vaast church in wallers, france. in honor of its reconstruction, a competition was launched to bring new life back to the space through art. the selected piece, a light sculpture, has been imagined by florian brillet and david letellier.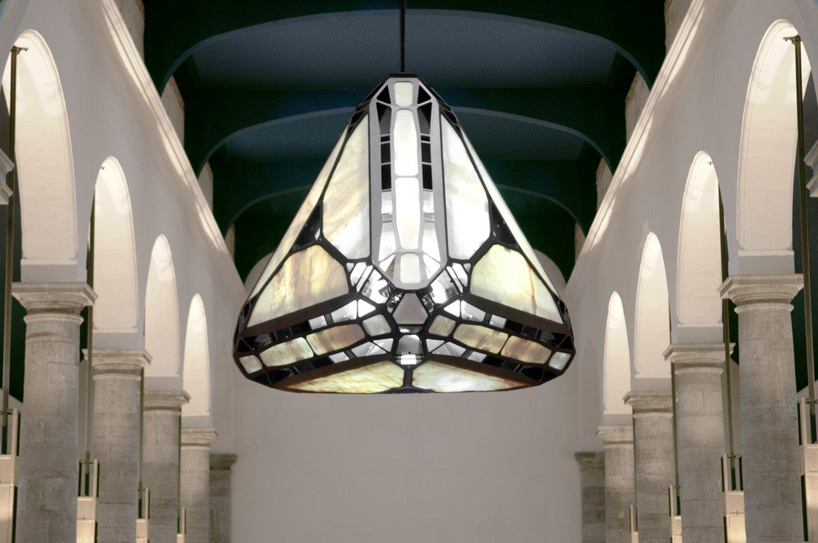 The form is based on a tetrahedron crystal, representing the regular microscopic construction of certain materials in their natural state. as a result, the sculpture evokes the inherent spirituality of the place of worship by the representation of the geometric order.
The structural design is a contemporary three-dimensional interpretation of techniques used in traditional sacred architecture, where the supporting framework is detailed both functionally and aesthetically, to be sublimated until becoming expressive and meaningful. it is both mineral and metallic, consisting of a polygonal filigree fitted with translucent white alabaster panels.
Ffrom each vertex of the prism, LED projectors emit a soft palette of colors ranging from pure white to light yellow. these hues are then filtered through the alabaster plates with the depth of the reflective enclosure acting as a diffuser that reveals the veins of the material and different shades of the stone. in this way, envelope and structure are united in a complex, but regular geometry.
Source:designboom.com
Hot Products
Hot Suppliers
Other Products