Lumileds Wins Architectural SSL Product Innovation Award (PIA) for Matrix Platform Integrated Light Guides
Architectural SSL announced today that Lumileds has won a 2018 Product Innovation Award (PIA) from Architectural SSL magazine for its line of Integrated Light Guides under the Matrix Platform Advanced Technologies. These ultra-thin plates soften high flux LED light, enabling unprecedented light control in a compact form factor. Initial implementation in outdoor fixtures resulted in a lumen output of 20,000 lumens (lm) at 120 lm/W, exceeding Design Lights Consortium (DLC) Premium requirements. "As the industry demands thinner form factors, achieving excellent uniformity with high flux is increasingly challenging, especially when combined with the efficiency and high flux standards of DLC Premium," said Viral Hazari, Matrix Platform Product Family Director at Lumileds. "Combining Lumileds LEDs, optics and application expertise, we are able to deliver a solution that exceeds the market demands."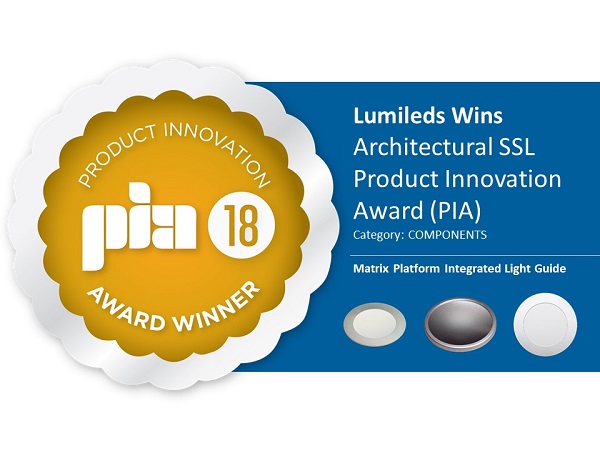 Each year, Architectural SSL recognizes innovative light engines, solid state luminaires and fixtures by awarding PIAs in various categories. A distinguished panel of 14 designers and lighting specialists evaluate and recognize products and systems based on attributes, qualities, functionality and/or performance, emphasizing ones that exceed industry standards. Matrix Platform Integrated Light Guides were awarded in the "Components" category.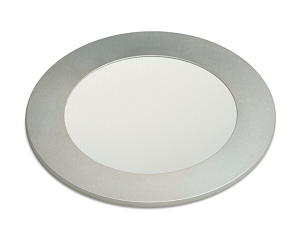 The Integrated Light Guide plates also provide the flexibility of design that lighting producers need to address indoor or outdoor applications. Options range from Types 3, 4 and 5 light distributions for street lights, to a batwing distribution for parking garages, to a Lambertian or asymmetrical light distribution for indoor lighting fixtures. "Regardless of light distribution choice, lighting designers can go into a project knowing they can meet DLC Premium qualifications and achieve uniform, glare-free distribution," said Hazari. As part of the company's Matrix Platform Advanced Technologies, Integrated Light Guides are compatible with Integrated Driver Technology, Connectivity and Control and/or Dimming Electronics, to rapidly accelerate time to market of new fixtures. Designers of indoor and outdoor fixtures can capture greater market share, while ensuring an attractive, uniform light distribution.


Integrated Light Guides are offered with a variety of CCT and CRI options and also enable LED selection by parameters such as flux or Vf using the Oberon Intelligent Assembly pick-and-place system for board-to-board consistency. Additionally, Matrix Platform's Integrated Driver option makes the most of limited physical space in compact fixtures. Overall, the Matrix Platform offering reduces inventory, minimizes waste, and improves fixture reliability.
Source:ledinside.com
Hot Products
Hot Suppliers
Other Products