OK lamp: Konstatin Grcic's Lighting Series For Flos
'it is a truly enlightening story of design evolution, the one of the parentesi lamp. pio manzù's original idea of creating a 'light source that can slide vertically from floor to ceiling and rotate 360 degrees on its axis' was adapted by achille castiglioni after his friend's early death in 1969.'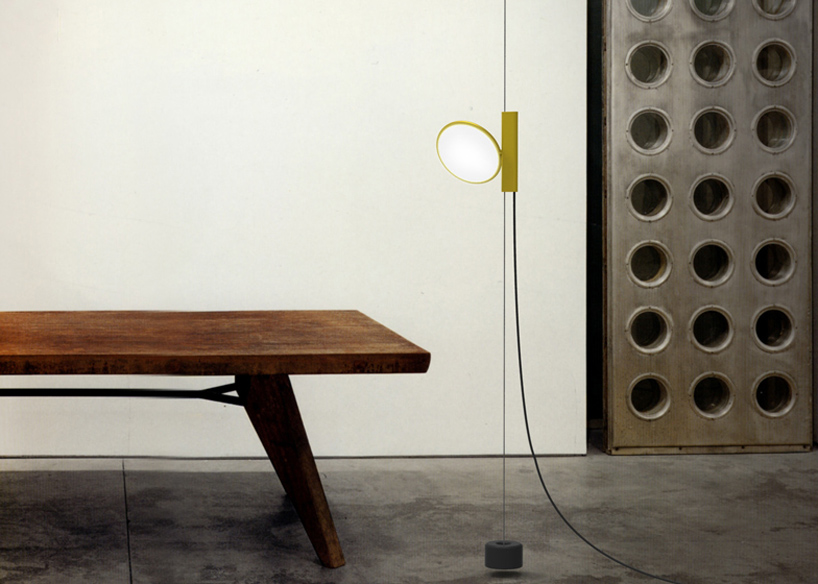 'a beautiful original illustration reveals the painstaking process of refinement that transformed the first schematic concepts into the final product.  flos launched the parentesi lamp in 1972 and it has been in continuous production ever since.  forty years later, much has changed. the world of lighting has seen a fundamental shift from conventional bulbs to a variety of new lighting technologies which in themselves are creating new opportunities for the design and manufacturing of lamps.
Designing a lamp is no longer limited to working around a given bulb. today, it means designing the actual bulb or light source. this challenged me to think of parentesi, a lamp that celebrated the traditional bulb in the most effective and beautiful way. would it be possible to rethink the parentesi lamp once more and pass the manzù-castiglioni torch on to the future?'konstantin grcic
A sun hanging from a wire. a luminous circle embracing space. all of these are ok, a flat circular shape with a wire that works like a rail and runs from the ceiling to the floor. the name incorporates the shape of the 'O' and the first initial of its german designer — konstantin.
Once again, grcic unites technological experimentation, design sensitivity and a taste for unadulterated shapes. his passion for technology and materials translates into design that speaks the languages of simplicity, innovative avant- garde and design history.
And so grcic pays homage to an icon of italian industrial design, redesigning the original light bulb as an ultra-flat led surface with edge-lighting technology, directable over 360 degrees. the parenthesis-shaped tube of the original lamp maintains its vertical sliding function over the steel cable, but has now become a small rectangular box that houses the electronic components and a soft-touch switch. the formerly cylindrical weight has been substituted by an easier-to-install cone shape. only the small ceiling rose, designed by achille castiglioni, has remained identical: a beautifully shaped piece of spun metal.
'OK' is available in white, black, yellow and nickel.suspension direct light lamp. adjustable cast aluminium glossy painted head. the vertical movement of the head is obtained by the scroll of the internal structure on a steel cable. soft touch technology for the on/off switching. finishes: white, black, yellow and nickel light source: 1 edge lighting technology 1035 lm total – cri85 – 23w
Source:designboom.com
Hot Products
Hot Suppliers
Other Products