Signify Expands Smart Lighting System Network with New Worldwide Partners
Signify has transformed from a luminaires supplier into an intelligent lighting system provider, offering solutions for lighting systems and services. Its "Friends of Hue" program has demonstrated an ecosystem to intensify the connections of the company and other international and interdisciplinary partners for expanding smart lighting network.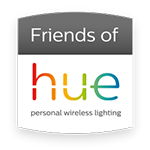 Signify has announced that six new partners have joined the Friends of Hue Program to offer a greater variety of products that are seamlessly integrated with the Philips Hue smart lighting system. The new members include two wall-switch companies, Busch-Jaeger and Illumra and four lighting design companies, Kichler, Makris by Imoon, Koizumi and John Lewis.

German company Busch-Jaeger and the U.S. based illumra joined the Friends of Hue control manufacturers to provide more options for wireless wall switches. Meanwhile, the luminaires designers from Kichler, Makris by Imoon, Koizumi and John Lewis will offer a wider range of lighting products with sophisticated designs and customized styles, making the integration of smart lighting system more personalized.

"Our new Friends of Hue luminaire partners offer striking designs to complement any indoor space. We all want our homes to look their best and perfecting our interior design is a very personal thing. With this in mind, Philips Hue has expanded its Friends of Hue offering so users can experience more choice and freedom than ever before when it comes to illuminating their homes and enjoying the benefits of connected lighting," adds Marijn de Jong, Global Product Manager Friends of Hue at Signify.
Source:ledinside.com
Hot Products
Hot Suppliers
Other Products