The 21st China (Guzhen) International Lighting Fair Drew to a Close Successfully, Opening Up More Business Opportunities for the Lighting Industry
On 21 March 2018, the 21st China (Guzhen) International Lighting Fair (hereinafter referred to as "GILF" or "the fair"), featuring ultra-high popularity, all-round exhibits, high-quality exhibitors and excellent services, came to a close successfully at Guzhen Convention and Exhibition Centre, Zhongshan, Guangdong.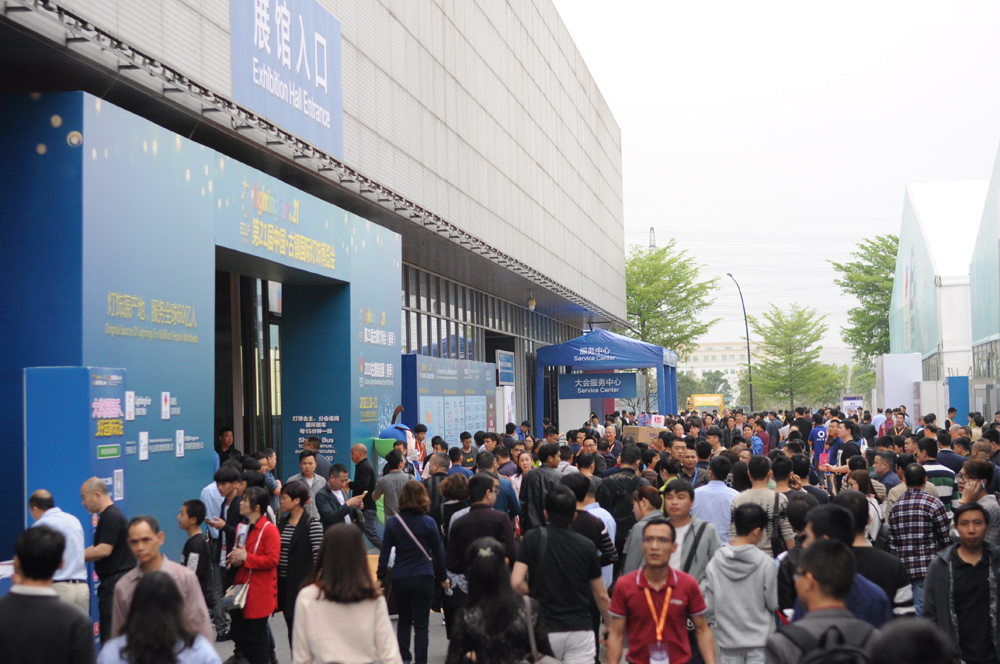 Accurately grasp the pulse of the lighting industry, taking the "first stop for purchase in Spring" as the theme, and focusing on intelligence and innovation, the 21st GILF has provided suppliers, purchasers and distributors with a one-stop lighting trading platform featuring direct and convenient trading and ultra-high cost performance, building a professional, market-oriented, branded, and internationalized lighting purchase feast in Spring.
Unprecedented scale with a record high number of exhibitors and visitors
Relying on Guzhen Town's (China Lighting Capital) lighting manufacturing & trading industry clusters, the fair collaborates with 7 sub-venues (lighting malls- Lihe Lighting Expo Center, Huayi Plaza, Star Alliance Global Brand Lighting Center, Lighting Era Center, Besun Lighting Plaza, Huayu Plaza, and China International Streetlight City) to build up an exhibition area of 1,500,000 m2 and gathered high-quality enterprises of over 2,000, offering buyers larger variety of lighting products.
On the other hand, the number of visitors hit a new high on the 21st GILF. Up till 1:00 p.m 21st March (closing time), the main venue, together with seven sub venues, recorded 290 thousand person time of entrance. 42,366 professional visitors from 91 countries and regions were attracted to the main venue, a year-on-year increase of 12.3%, and 2,006 overseas trade visitors were recorded, a year-on-year increase of 17.5%.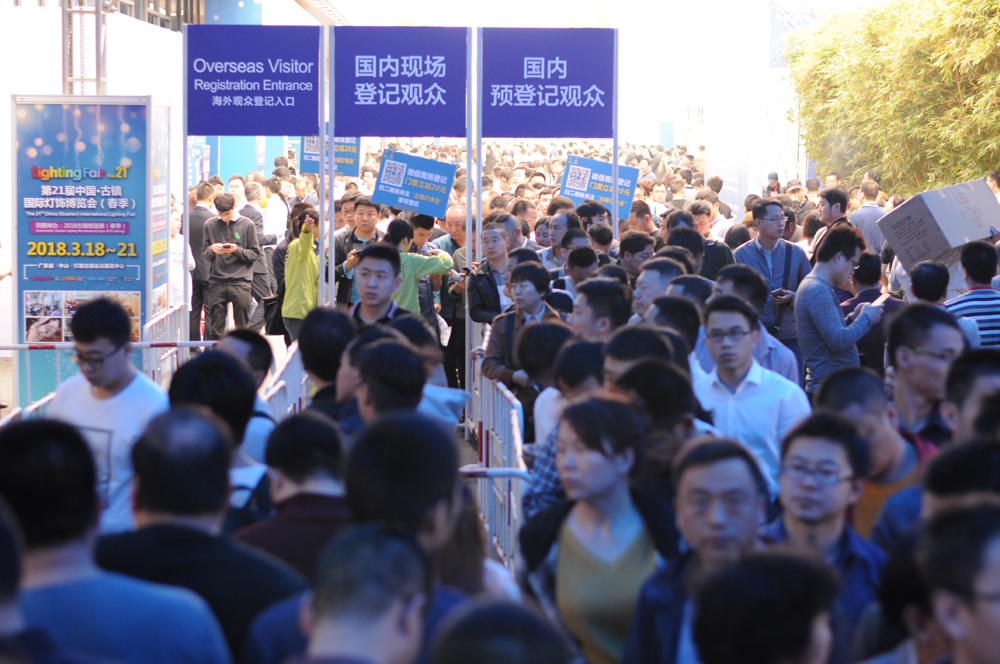 Joined hands with numerous of lighting brands to display well design lightings and state of the art technologies
Numerous of national renowned company joined the fair. Guangdong Guzhen Lighting Co., Ltd., Shunde Lighting Association, and Zhongshan Lighting Industry Association grouped to attend; Well-known enterprises like Dark Energy, MeroTek Zhejiang, Oppel, Meiyang, Xucheng, Congyi, Nanwei Lighting, Jiayuan Huating Lighting, Chengyuan Photoelectric Technology, AIYU Lighting, POBO, DONE, Everfine, and Nork Lighting, set their booths at GILF accordingly to display various kinds of new and featured products with high quality and competitive prices.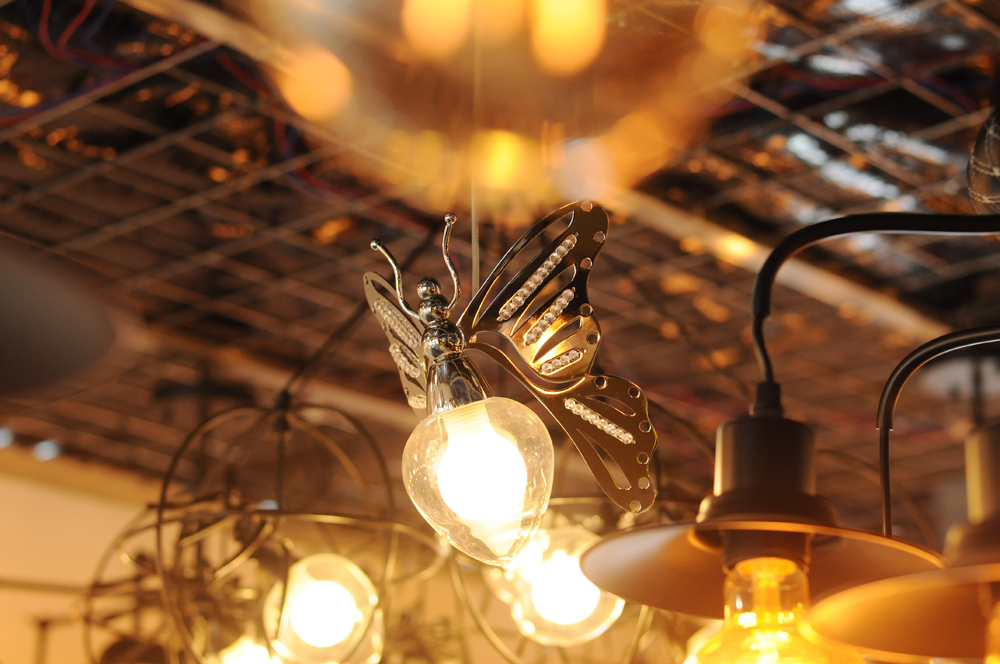 Festival lanterns with Chinese and foreign characteristics, household lamps in simple but fashionable style, practical commercial lamps with high cost performance and intelligent lighting engineeringproducts were easily seen onsite. All showcased the wisdom of lighting participants and the trend of lighting industry.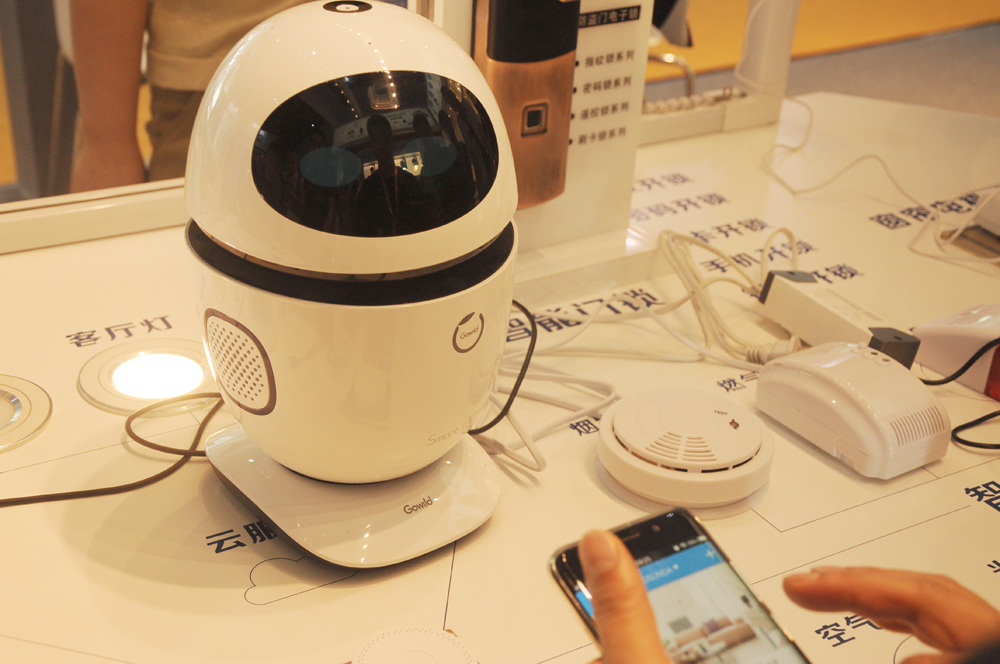 Intelligent lighting gained wide attention during the fair. Intelligent lighting exhibitors showed visitors of how they achieved intelligent control on lighting equipment through the modes of computer, Internet of things, and communications technology.
In addition to innovation of final products, manufacturers made breakthroughs on the application of raw and auxiliary materials. For example, instead of traditional marbles glass stones have been used on Chinese-style lamps, European-style lamps, wall lamps, and ceiling lamps through overturning innovative thinking and cross-industry design concepts.
Scientific layout and high-quality exhibition, establishing a diversified platform for the lighting purchase peak season in spring
The main venue adopts five exhibition halls with specific functions for clear and efficient exhibition guidance. Hall A focuses on exhibition of well-known brands with innovative design capability and lighting engineering strength; Hall B focuses on decorative lighting, electrical and electronic products, and household lighting; Hall C gathered commercial lighting and outdoor lighting exhibitors; and the outdoor halls D & E specially for the concurrently-held Guzhen Lighting Manufacturing, Supply & Services Expo featured advanced machinery & equipment and lighting accessory. The five halls together presented lighting products that covered the whole industry chain.
   In general, the halls and booths were set to create a "lighting environment", displaying lightings while allowing visitors to fully engaged into the beauty of these makings.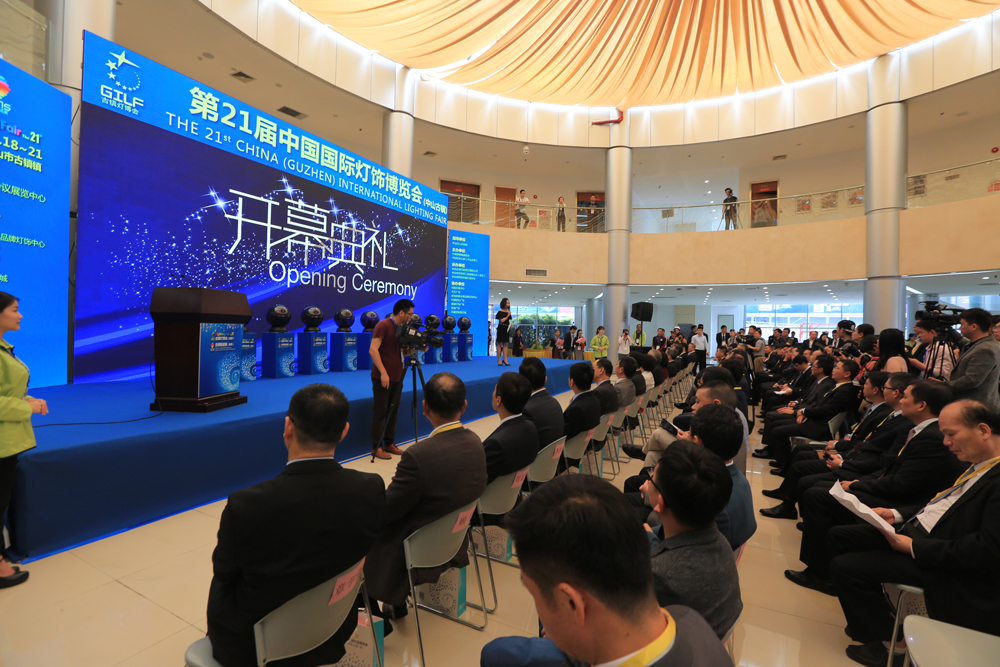 A brainstorming with industry elites and high-end forums & wonderful activities
On 18 March 2018, the opening ceremony of the 21st GILF was held at Guzhen Convention & Exhibition Center. Ms. Liu Shengping, Executive President of China Association of Lighting Industry, Mr. Lei Yuelong, Vice Mayor of Zhongshan Municipal People's Government, and Mr. Kuang Zhi, Vice Party Secretary of Guzhen Township People's Government, highly affirmed the leading role and position of the GILF as in China's lighting industry. Multiple ceremonies were held successively, including "Unveiling Ceremony of Huayi Plaza AAAA Tourist Attraction", "Exchange Ceremony of Signing Text on T-mall & Zhongshan Industrial E-Commerce Service Center", "Exchange Ceremony of Signing Text on NVC Global Lighting Innovation & Design Center", "Exchange Ceremony of Signing Text on BMTC Project", "China (Guzhen) International Lighting Design Awards", and "Award Plague to China Lighting Brands Alliance". Over 400 guests, including government representatives, representatives of lighting industry associations, industrial elites, strategic cooperation partners, and well-known media attended the opening ceremony.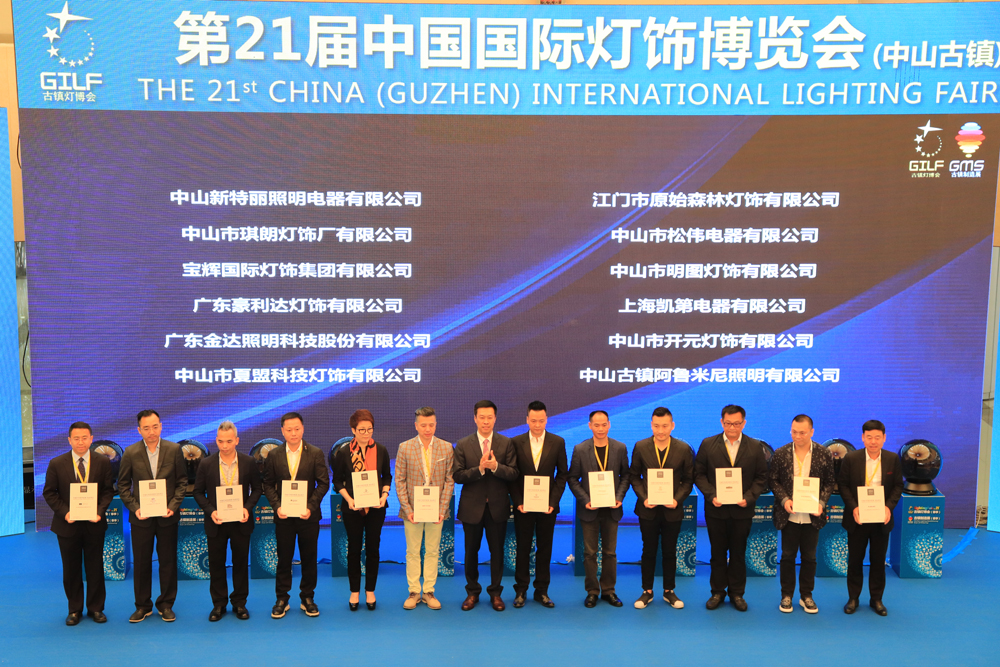 In later days, dozens of high-end forums and wonderful activities concerning brand designs, intellectual property rights, intelligent manufacturing, and Internet + were held successively. On the themed forum of "Innovation & Artificial Intelligence-Key Drive to the Development of Lighting Industry" held by China Association of Lighting Industry, Mr. Tang Lintao, Ph.D. and associate professor from the Fine Arts Academy of Tsinghua University was invited to share and introduce the development direction of domestic and overseas intelligent lighting and innovative design concepts of intelligent products, and Enrique Marti, a well-known Spanish designer, was invited to share his interesting experience in lighting design. The New Product Launch Event at Forum and Seminar Area, Hall C invited exhibitors to present their new products. On the forum of "Intelligent Streetlights Lighten the Streets of Smart Cities", industry experts gave speeches on topics such as application of Internet of Things, light environment and intelligent streetlights in smart cities. Shenzhen Lighting and Display Association (SLDA) cooperated with the GILF to hold the "LED Cross-Border E-commerce Marketing" forum, inviting multiple large-sized enterprises such as BMTC, Mulinsen, Amazon, and Global Market Group, etc. to help enterprises understand the new trend of technology and market development and ways to explore overseas markets. While at sub-venues of GILF, the Guzhen International Lighting Design Week 2018 was held in Huayi Plaza. Other than all sorts of professional lighting forums, 3D musical spring fountain show was on at the night of GILF (March 18 & 20), showing the unique charm of Guzhen to exhibitors, buyers, dealers, distributors, and purchasers from all over the world.
Wide application of "Internet +", opening up a "Big GILF Era"
Following the trend of global "Internet +" mode, GILF further integrates the fair with Internet, building an everlasting international lighting fair through online and offline combination.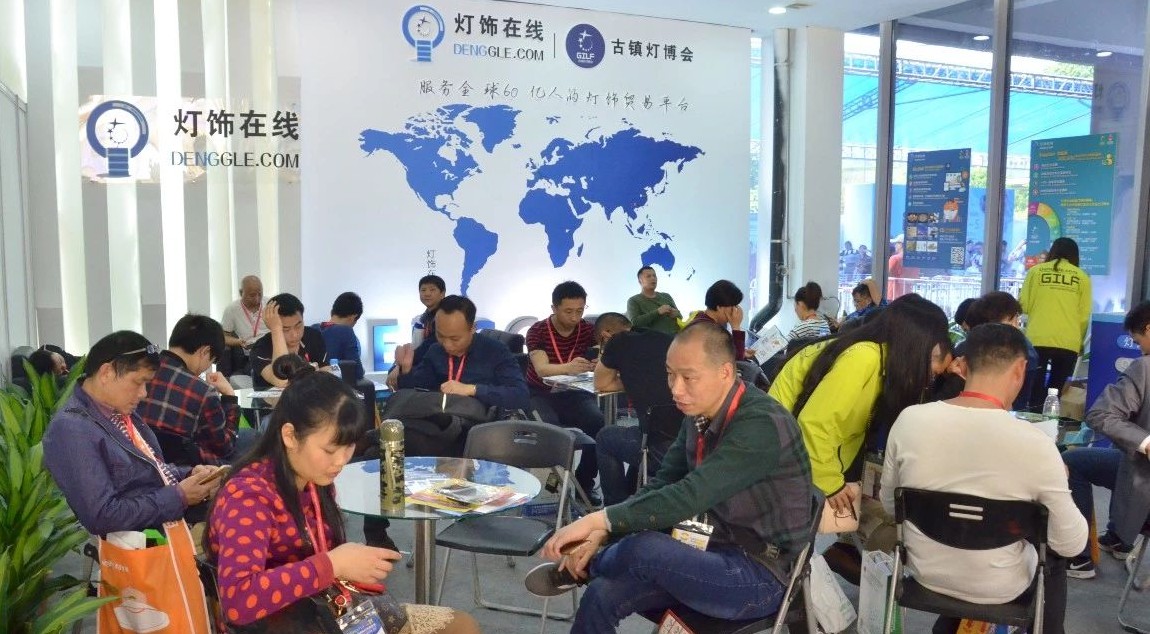 DENGGLE.COM, a professional B2B platform launched by GILF for lighting finished products, manufacturing machinery & equipment, has gradually developed into an emerging industry carrier, providing buyers and sellers with triune services such as product promotion, information sharing, industrial exchange, and trading logistics services. Visitors were able to experience the B2B platform in person at Denggle.com Experience Area.
A T-mall exhibition hall themed by "T-mall New Lighting Species" was set to provide various onsite interaction activities including interacting with T-mall service personnel and service consultation etc.
In addition, e-commerce giant Alibaba cooperated with GILF to carry out a live broadcast of "Merchants Days at Guzhen Lighting Fair", exposing the fair to a wider range.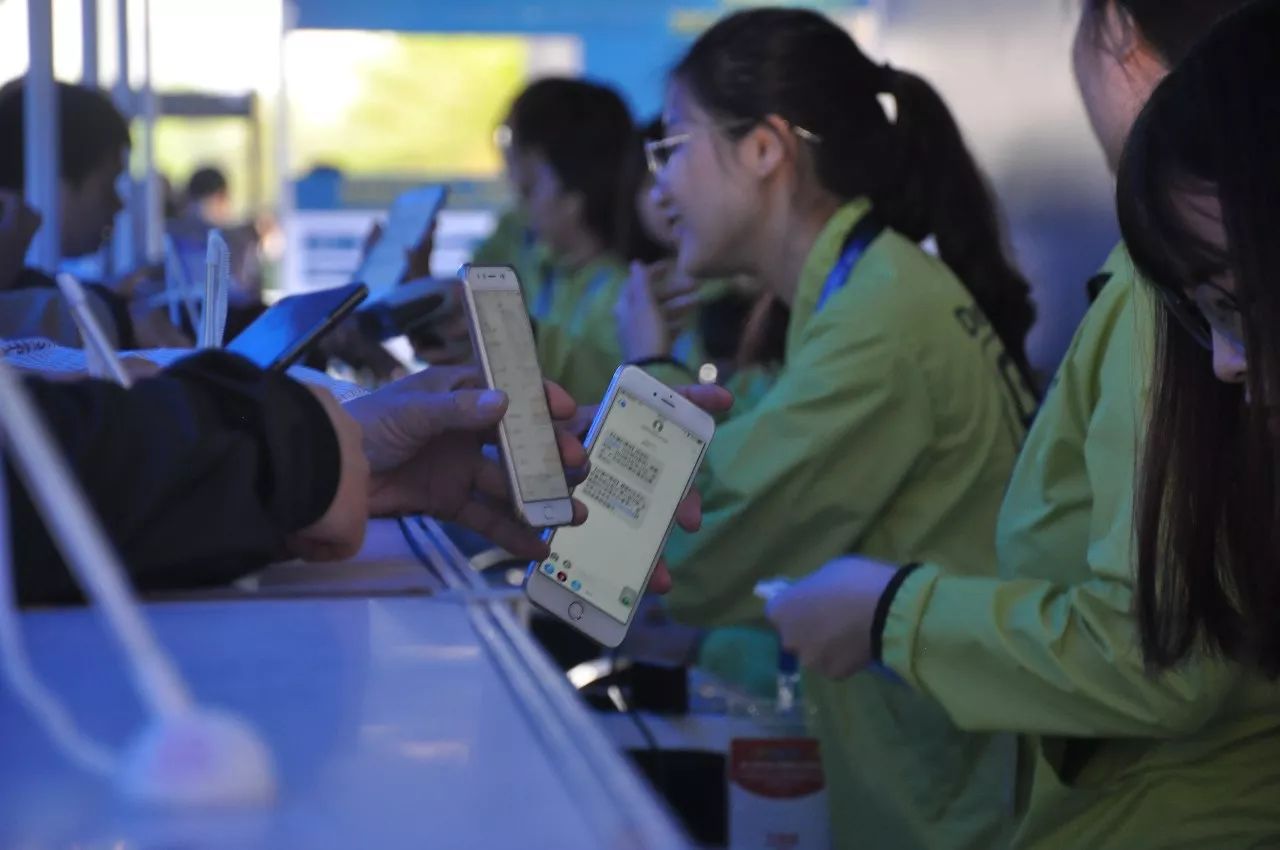 Other online services such as WeChat registration, online payment and fair e-catalog were provided to simplify the entrance procedures and to promote an environmental friendly and efficient exhibition.
Summary:
Taking industry as the carrier and culture as the soul, the GILF enhanced the added value of lighting products, and promoted the transformation and upgrading of Guzhen's lighting industry. The 21st GILF has drawn to a close successfully by displaying the bright prospects of the lighting industry, stimulating unlimited business opportunities in the market, and providing exhibitors and visitors with unprecedented experience and surprises. Let's look forward to the coming of the 22nd GILF at Guzhen on 22-26 2018!
Hot Products
Hot Suppliers
Other Products