Dutch train operator NS has employed cleaners tokeep its carriages tidy during journeys following complaints about litter.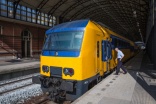 The cleaners will work on the routes between Den Helder and Nijmegen, Alkmaar to Maastricht, Amsterdam to Dordrecht and Lelystad to Vlissingen, following a successful trial between Amsterdam and Utrecht in the autumn.
NS said the measure was partly designed to deter passengers from discarding their litter on the train. "If the carriage is clean or being cleaned, passengers are less quick to leave their newspaper or coffee cup behind," said a spokesman.
Initially the cleaners from Haqo Rail Services only work on off-peak trains, but NS said the service could be extended later. They will also be given training on interacting with passengers, because until now trains have been cleaned only when empty