On March 18-21, 2019, the 23rd China (Guzhen) International Lighting Fair (hereinafter referred to as the GILF) scored great achievements in focusing on the trend of smart lighting, exhibiting products covering entire industry chain and accurately matching exhibition and sales, coming to a successful close.
As of 14:00 on the 21st (closed time), a total of 295,000 buyers and visitors from 91 countries and regions around the world have come to the 8 venues for GILF. The main venue— Guzhen Convention and Exhibition Center attracted 54,134 professional buyers, with a year-on-year increase of 27.8%. Among them, the number of domestic buyers reached 51,398 (a year-on-year increase of 27.3%), and the number of overseas buyers surged to 2,736 (a year-on-year increase of 36.4%).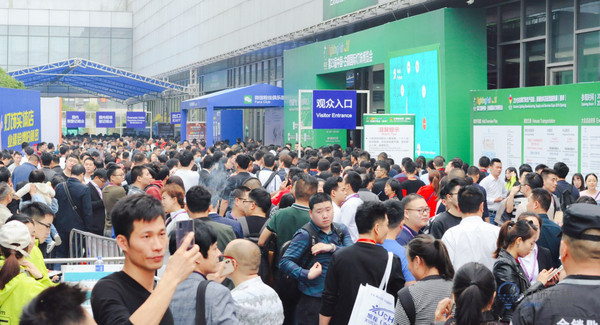 Guzhen town (Original Source of Lighting), with an annual output value of over 100 billion yuan, is a strong support for the fair. With the "1+7" linkage mode between exhibition and megastores, Guzhen Convention and Exhibition Center joins hands with Lihe Lighting Expo Centre, Huayi Plaza, Star Alliance Lighting Center, Lighting Era Center, Besun Lighting Plaza, Huayu Plaza, China International Streetlight City, creating a "grand lighting fair" landscape with 2,000+ exhibitors and over 1.5 million m2. Among them, the main venue (Guzhen Convention and Exhibition Center) hosts a total of 805 exhibitors, including local lighting brands as well as outstanding enterprises from Shenzhen, Guangzhou, Shanghai, Fujian, Zhejiang, Shandong and other places throughout the country. That once again highlights the optimization of resources, stimulates the vitality of the lighting industry platform, and attracts tens of thousands of global professional purchasers, delivering a satisfactory result featuring a wave of purchasing boom in the spring.
"Intelligence" Leads the Trend, Propelling the Lighting Original Source to Seek Innovations
With the advancement of AI system, Internet of Things, 5G and other technologies, as well as the upgrading of LED industry, the development of smart cities and smart lighting has been accelerated. This year, seizing the momentum, the fair set up a "Smart Home Lighting Zone" at Hall A in the main venue Guzhen Convention and Exhibition Center.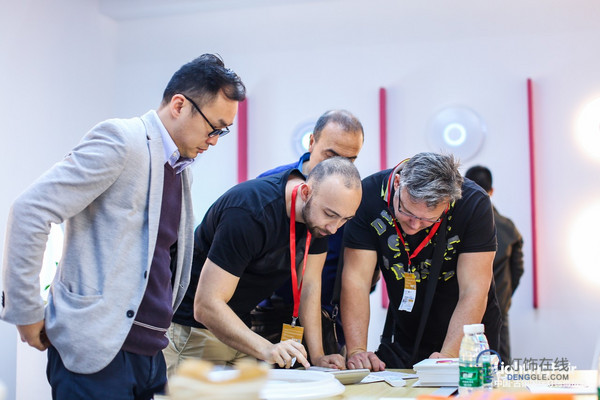 From the exhibits of Dark Energy Power Supply, Bright Power Semiconductor, Vanhi IOT, AOTO and other exhibitors, LED intelligence has penetrated the entire industry chain, including chips and packaging, LED devices, LED modules, LED driver power, and intelligent lighting products (intelligent indoor lighting, outdoor landscape lighting, urban lighting equipment, etc.), and more than one-third of products are whole house intelligent system products. Going intelligent of traditional lighting has become the mainstream of industry upgrade of GILF. At the same time, more companies have joined the intelligent control and management platform of the Internet of Things to provide an integrated solution for the smart community.
Buyers and industry insiders can learn about the intelligent lighting products, integrated home lighting control solutions and intelligent lighting systems of established brand enterprises. Through this "window", the fair will play a greater role in demonstrating and guiding more enterprises to go intelligent and step up innovation, so as to find a new driving force for the lighting industry.
In addition to intelligent lighting, cross-border integration is also a hot topic of this year. Well-established company LONON makes a breakthrough by applying the iPhone screen glass to the switch, breaking the traditional concept of switching materials. The interactive projection products independently developed by the intelligent advertising company Leedoon is only half the size of the existing conventional products, and its responsiveness and brightness are superior to the similar products in the market. Huasheng Electrical Appliances, who produced the first fan in China in 1916, focuses on introduction of invisible fan lights at the exhibition. The fan blades are easily displayed and closed, and the heating and cooling are responsive and controllable. Miracle Netech (Tmall Service Center in Zhongshan) cooperates with Jiyoujia to promote the Hall of Tmall Elf Smart Home, showcasing the possibilities of smart homes in the form of model homes.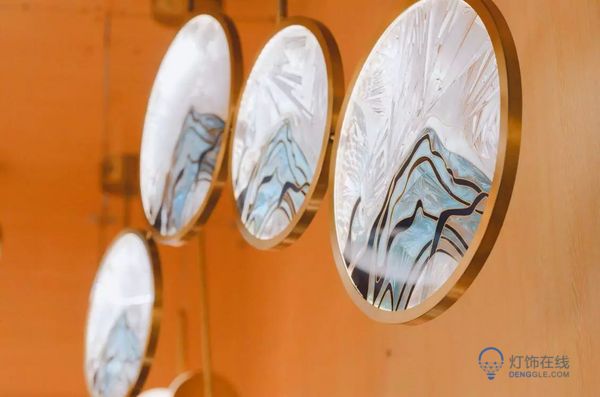 In addition, there are many well-known exhibitors, such as Oman Lighting, ATTA Lighting, Cayon Lighting, Sanxiang Lighting, Chuanglite Lighting, BaoLL Lighting, Zhejiang Meiyang Lighting, Koyaa, Ai Yu Lighting, etc.
"Full Industry Chain": Speed up the Industry 4.0 by Improving the Lighting Accessory
Guzhen (China's Lighting Capital) has been scaling up the ladder within the industry, which is closely related to the multi-category of the whole industry chain and the high efficiency of lighting accessory. In addition to the exhibition area of mid-stream finished products (decorative lighting, household lighting, electrical and electronic products, commercial lighting, LED technology and lighting, outdoor lighting, etc.), there is also the manufacturing area of lighting accessory (machinery, raw materials, accessories, 3D printing, services, etc.).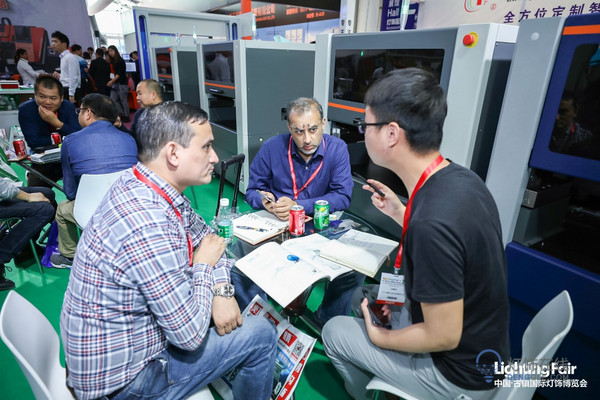 Exhibits of production automation and diversified personalized customization can be seen everywhere. Industrial quality, unmanned factories, and industrial 4.0 intelligent manufacturing is under the limelight during the exhibition. For example, Kechanglong strongly recommended optical fiber laser cutting machine, which can process carbon steel, stainless steel, copper and other special-shaped oil parts and spinning parts. Jinglei uses special paper made of nano materials and special environmentally friendly ink to print images on any solid medium. The fully automatic laser printer of Grand Unified Laser is three times more efficient than manual operation. A number of well-known companies such as PTC, Everfine and Dongya Machinery have also showed their strengths.
Sharing the Trend through "Thinking": Frontier Forum + Purchasing Activities Stimulate Multiple Business Opportunities
Exploring the cutting-edge technology and leading industry trends is one of the highlights of every session of GILF that attract many manufacturers. During the 23rd GILF, a number of industry seminars sharing incisive and enlightening insights were held in the main venue. At the same time, many purchasing activities were carried out in each sub-venue, activating the brand vitality of Guzhen and stimulating multiple business opportunities.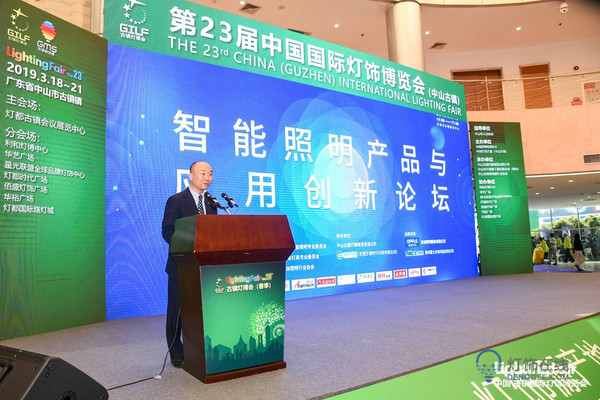 On the day of the opening ceremony, the "Intelligent Lighting Products and Application Innovation Forum" co-sponsored by China Association of Lighting Industry and the Productivity Promotion Center of Guzhen Town, Zhongshan City was successfully held, indicating the "going intelligent trend" of this fair. Subsequently, a number of high-quality reports and high-end forums ensued to exchange ideas about the lighting industry, including "Report on 2019 Lighting Industry Market Trends and Overseas Market Expansion", "Innovative Intellectual Property Protection: to assist Lighting Industry Transformation and Upgrading", "Tik Tok × New Lighting Entertaining Fashion", "2019 Lighting Items Salon", "Lighting Industry Community Marketing Technology Sharing Conference", etc.
At the same time, this year, the fair joins hands with www.cali-light.com·Lighting Classroom to create a series of online lectures on the lighting industry – "China (Guzhen) International Lighting Fair·Lighting practitioners Online", offering new insights into industrial transformation and development. In the side hall of Hall C, Alibaba's joint authorized service provider – Zhongshan Chaoyang once again teams up with the GILF to bring cross-border e-commerce summits and 48-hour live broadcasts to hundreds of thousands of professional buyers online and offline.
The 7 sub-venues triggered a purchasing spree with theme activities, such as "Global Lighting Art and Purchasing Festival at Lihe Lighting Expo Centre", "2019 International Lighting Design Week and Global Lighting Purchasing Festival at Huayi Plaza", "2019 Purchasing Festival – 'Big Brand, Great Integrity' at Star Alliance Lighting Center", "2019 Spring Purchasing Festival at Besun Lighting Plaza", "2019 Collection of High-quality Products at Huayu Plaza", "The 5th Global Outdoor Lighting Purchasing Festival at China International Streetlight City", etc.
"Exhibition-Network Integration": Online and Offline All-day-long Integrated Service
The 23rd GILF continues to deepen the mode of "Exhibition-Network Integration". The B2B purchasing and trading platform, Denggle.com, officially launched by Guzhen and GILF, fully displays the exhibition services, exhibitors, and exhibits on the Internet. The information of 8 venues, products, exhibitors, conferences, transportation and other online resources are collected, and the offline supporting services are integrated.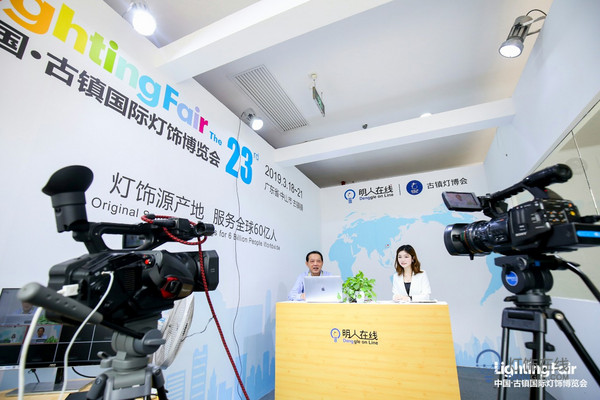 The four stations of Denggle.com work together, and the mini program "GILF·Denggle.com" is optimized on a regular basis. Therefore, industry insiders can find the intended manufacturers and products anytime anywhere. Business opportunities are created through effective inquiry and bidding, achieving all-year-round online and offline international lighting exhibition without limit of time and space. In such a way, brands and products spread through various effective channels, which will attract more quality visitors and buyers.
Summary:
Based on the original source of lighting, the GILF gathers global industrial resources, continues to deepen the mode of "Exhibition in the front, Factory in the back", heralds the ear of "Internet + Intelligence" Grand Lighting Fair, gives a leg up to the transformation, upgrading, and sound development of lighting industry in Guzhen. The 23rd GILF has come to a successful close with breakthroughs in innovation, strong exhibition lineup and splendid cross-border activities, demonstrating the confidence of industry development and presenting a promising future.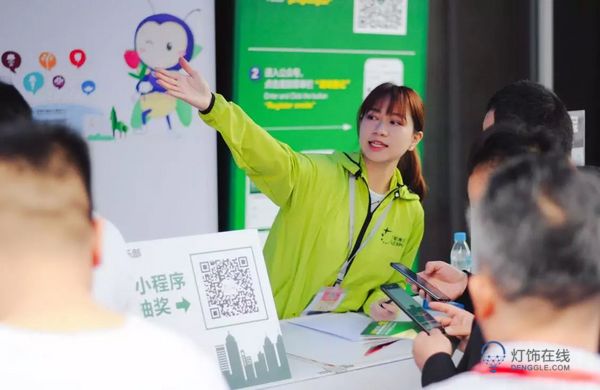 China (Guzhen) International Lighting Fair witnesses its 20th anniversary and continues to create more business opportunities for the lighting industry. The 24th China (Guzhen) International Lighting Fair (Autumn Edition) on October 22-26, 2019 is waiting for you in China's Lighting Capital—Guzhen town!
Source:denggle.com