The 23rd China (Guzhen) International Lighting Fair has reached a successful completion. Gathering professional buyers and elites of the lighting industry from around the globe, the Fair platform allows different insights to be presented.  It is an international event that enables enterprises to display their products and brand images, learn about industry trends, exchange ideas on technologies, seek trade cooperation, and better establish their brands.
In the morning of March 21st, Mr. Liu Jianhui, Guzhen Secretary, Mr. Yuan Songhua, Guzhen Chairman of the National People's Congress, and others, arrived at the Fair venue. Ms. Deng Jianyan, General Manager of Guzhen Lighting Expo., Ltd, introduced Liu and Yuan to the overview, area distribution, features, services and atmosphere of the Fair, which were fully approved by Liu.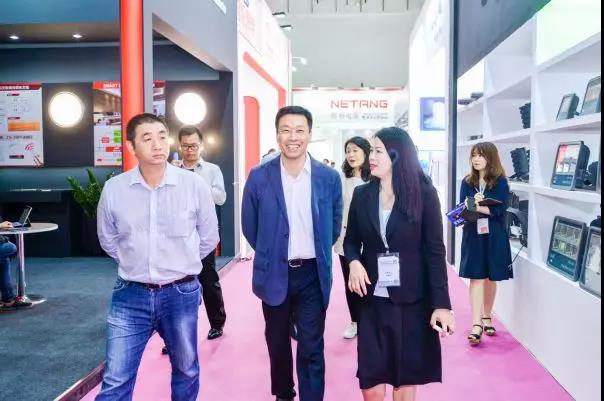 Liu and his companions visited many booths, including SanXiang, Leedoon, Bright Power Semiconductor, ATTA Lighting, BaiSheng, LianHe Laser, HongXinSheng, and others. Having talks with the exhibitors, Liu learned about their conditions of business, product features, creativity and use. Liu also asked them about their achievements from participating in the Fair, to get to know their advice on improving the Fair and their plans for future development of business.
Decorative lamp is always the strength of Guzhen, China Lighting Capital. The first booth that Liu and his companions visited was SanXiang, a powerful local long-established enterprise. SanXiang took innovative design as the breakthrough point. And their main product was decorative lamp that featured simple lines in Nordic style, with good quality and a competitive price. The lamp was well received at the venue.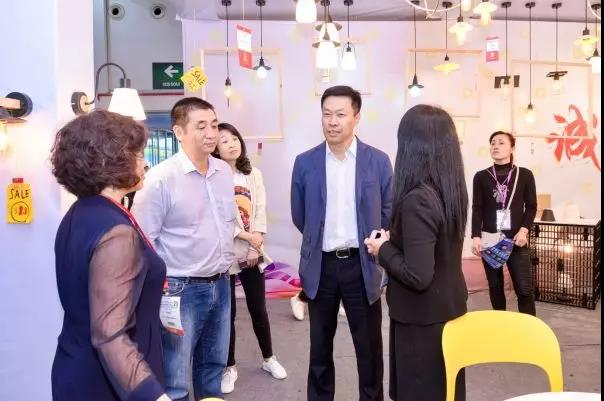 Liu: Where do you sell most of your products?
Su Enpei (president of SanXiang): Our products were exported mainly to Europe and Russia. But affected by EU economies, we turned our focus to domestic market. This year we changed the style of our products and have achieved initial success.
The interactive projection product developed independently by Leedoon had drawn the attention of Liu who tried the product. Not only was its size only half of normal ones, but also its sensitivity and luminance was much better.
Liao Kewei from Leedoon said that at present, besides interactive projection, multi-lens control mode was also popular in the market, which could be used in museums, restaurants, and shops. The projection lamp created special effects by overlapping static lens and rotating lens.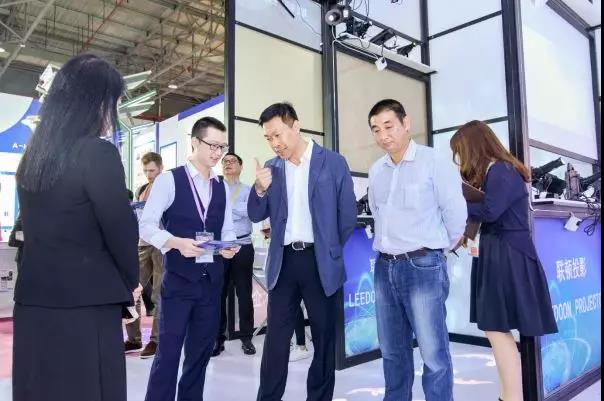 Liu: As a local enterprise that specializes in this kind of product,  I hope you can strive to be a large company with a production value reaching 20 million RMB.
The Fair followed the industry trend and added a smart home lighting area, focusing on smart lighting for a breakthrough. At the venue, many innovative enterprises offered solutions on smart home system and smart lamps. Bright Power Semiconductor (BPS) was one of them.
Zhao Zhengqin, director of BPS booth, stated that BPS is a Shanghai-based company that specializes in chip design and semiconductor, and that most of their clients are in Guangdong province. Zhao also said that though this was the first time that they took part in the exhibition, many buyers were very interested in chips and solutions.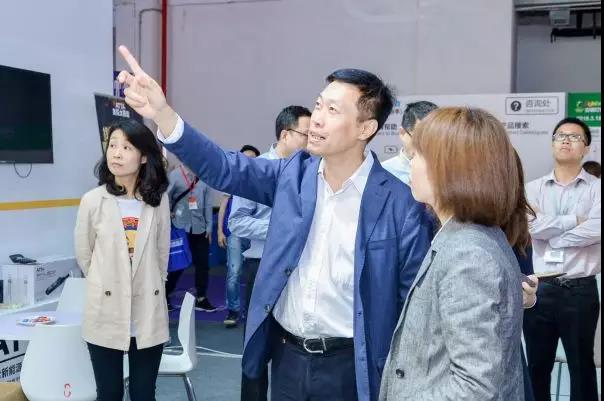 Liu: The customers of this kind of product are usually factories and companies. Guzhen is the original lighting source and there is a semiconductor market here. Please make good use of the Fair platform and sell your technologies and products to the world.
Solar-powered lamp is the trend of street lamp market, so Liu went to the booth of ATTA Lighting. He was very interested in the LED garden lamp, solar-powered lamp, and lawn lamp that were displayed in the exhibition.
Liu: How long will the solar-powered product last?
Ms. Yu (director of ATTA booth): Our products use level A solar panel, waterproof structure, core technologies like dim light charging and solar stream charging, new luminous system, and optimized circuit design to reach a battery life of 12 hours.
Liu and his companions also went to the mechanical equipment & lighting accessories area and talked to BaiSheng whose main product was industrial laser cutting machine.
Liu: Now the industry trend is automation and intelligence. How do you think about the outcome of participating in the Fair? What is the difference between your products and foreign products?
Feng Ruirong (regional manager of BaiSheng): The outcome is good. There are many people here. And we are negociating with several clients. At present, there is little difference between our products and foreign technologies, and we offer a more competitive price.
Cai Yingjie, general manager of LianHe Laser, told Liu that this time the result was great and that some buyers had placed orders right at the booth. Cai said that this year they launched three new automatic machines, which were highly cost-effective and practical.
Liu: Automation is the industry trend. It solves staff shortage, speeds up production, and lowers production cost, so more efforts should be made to develop it.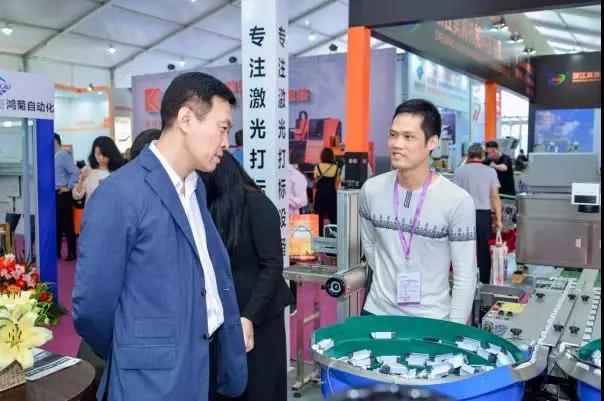 The director of HongXinSheng booth: This year the outcome is great. The Fair greatly helps us display our brand image and attract overseas buyers, many of which place large orders right at the venue.
Liu: Now because of underdevelopment or policy issue, many overseas enterprises purchase from China and assemble back in their countries. But we own the core technologies.
Besides the leaders of Guzhen, many exhibitors also hit 'Like' for the Fair on WeChat.
Source:denggle.com